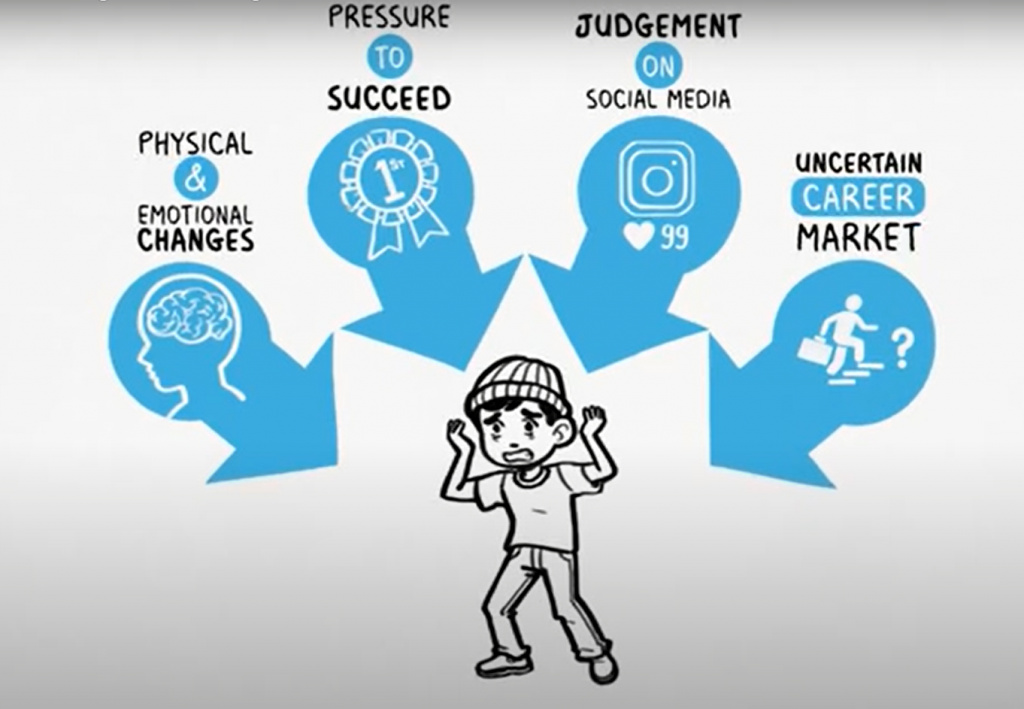 Industry news
Just imagine being able to access 40 years of scientific research in the field of wellbeing, self-awareness and personal performance. Just imagine tapping into guidance that has helped business leaders and elite sports stars perform under pressure. Just imagine if you had all of this on your smartphone, within easy reach, at hand whenever you needed it.
That was the aim when Emer O'Donnell and the team at Quintillion created Q, a pathfinder app for young people aged 12 and above.
Q is appropriate for students, those embarking on the first steps of their career and NEETs. Some sign up for the app directly; others access it through contact with professionals or organisations that work with young people.
Q pathfinder helps all users to get a clearer picture of their unique talents and potential so it has a key role to play as schools, counsellors, youth groups and training organisations address the losses caused by lockdown.

Uncertainty, confusion and fear
Covid has played havoc with educational delivery. Equally importantly, the future world of work is going to be an altogether different place than we imagined. Being able to adapt and change course will be a key skill.
'Q is a source of high quality information that supports young people in key areas, when they feel under pressure. It is bespoke, doesn't judge and is positive,' said Emer. 'It will give them greater hope and more confidence that they have the ability to navigate their future path.'
The app targets six key areas: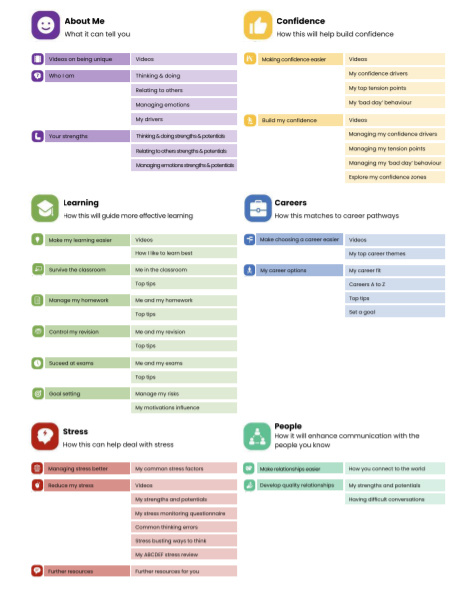 About the individual
Videos, screening tools and insights help young people to get to know themselves better so they can identify what makes them tick. They learn their preferred patterns of thought, how they relate to others, how they manage their emotions and what motivates them to get up in the morning or to go the extra mile.
These are their natural comfort zone behaviours. It then supports them to develop more skills currently outside their comfort zone so they can have more behavioural choices when faced with challenges.
Research shows young people value tools that will help them develop greater self-knowledge and more insight into what it is possible to create in their lives. Once they have this information, they can move from a place of uncertainty to having more clarity about their future and their place in the world.
People
Part of a teenager's brain is primed for social and emotional learning so young people can learn to contribute to the social world. There is a need to explore, to interact, to take chances as they leave the nest. This is why the social isolation caused by Covid-19 in particular, has been so devastating and has had such a major bearing on wellbeing.
Recent advances in developmental science have uncovered young people's concern with status and respect, their evolving sense of self in relation to the wider world and their need to contribute and find purpose.
Q makes a difference when it comes to communicating with others, developing and maintaining quality relationships and having difficult conversations with families and friends.
Confidence
Most people experience those moments when they feel that their 'light has gone out'. Perhaps someone more self-assured comes into a room and suddenly our teenager feels that they are less important, more anxious and more easily overlooked.
Q is a wonderful tool for identifying the factors that influence confidence in a personalised way. 'It's not just about finding our strengths,' said Emer, 'but also identifying new areas that offer the potential for behavioural skills growth. Q explains how others can impact us and how we can be impactful too.'
Young people may feel out of step with their peer group and think that they have little to offer the wider world. Understanding their unique natural talents and the drivers that motivate them lets them see how they can contribute to society. This creates a better sense of wellbeing and focus. It enhances mental fitness and resilience.
Learning and careers
Many young people have lost sight of goals and aspirations over the last year and have led lives that continue day in and day out without any clear sense of direction.
This can be quite damaging to self-esteem as Emer explains: 'Purpose is a key factor in our terms of our identity,' said Emer. 'It doesn't just answer the question of who you are, but it's also an answer to the question of who you're going to be and the direction you're want to be heading in.'
Q helps young people to identify their preferred learning styles and how to develop strategies for staying on top of revision and exams. Young people can begin to pin down possible career pathways that are supportive and more aligned with who they are.
These insights can lead young people to understand how they can learn best and then how to apply that knowledge as they enter different learning environments.
Stress
Too often, students who experience depression and anxiety seek out friends both online and offline who feed that tendency rather than peers who help them move beyond it.
It is common for people who are stressed to struggle to move beyond a particular thinking pattern. Q reveals their trigger points with common stress factors. It offers guidance in a personalised way on their strengths in these situations and how they can develop more potential strengths.
It also makes the young person more aware of how unhelpful beliefs and thinking errors can emerge, with tips and techniques to on how to manage these better. When you know about these tendencies then that is the first step in changing unhelpful behaviours into more supportive ones. Adolescents gain more self-knowledge and learn to apply it to key areas in their life.
Q takes a coaching approach
The app, only available from the Q platform, is a great choice for parents, guardians, schools and centres dealing with the current loss of confidence and lack of direction in young people's lives.
Q never makes the decision for the young person. It just provides carefully tailored information so they can reflect, explore alternative options, make their own choices and set goals.
Working through the different activities and watching the videos encourages users to ask the right questions and reach more informed decisions when challenges arise.
Q believes young people can be more empowered and in control of their journey through life and it will give them the insight and tools they will need to make that happen.
For more information about Q and using it in your school or workplace visit https://qpathfinder.com or make contact at https://qpathfinder.com/contact
Register for free
No Credit Card required
Register for free
Access to 3 free articles
Free TeachingTimes Report every month