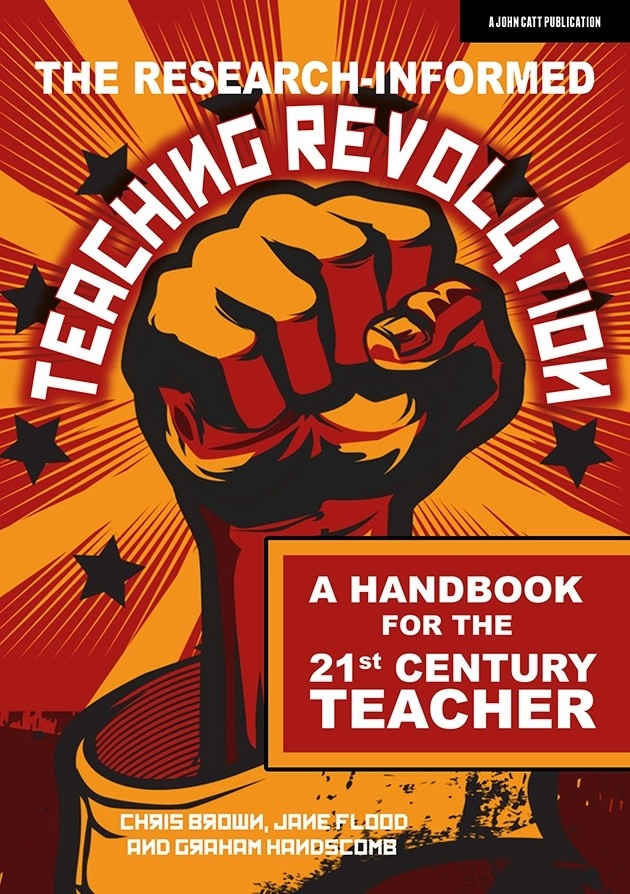 *Edited by Chris Brown, Jane Flood and Graham Handscomb. John Catt publishing.
This edited book begins with a beautifully written exhortation by Lesley Saunders to consider the challenging, yet rewarding intricacies of mixing the worlds of educational research and teaching practice. She quotes Robin Alexander's definition of pedagogy, one which embraces the complexity faced by the teaching profession rather than attempting to subdue it, and the benefits of continuing a tradition started (in the UK) by Lawrence Stenhouse in which research and teaching are seen to be intimate partners. The editors then introduce the book with the analogy of the perfect party, where research and teaching is intermingled, promising a guidebook to this party in the concluding chapter. For this review I imagine this party as centred around a smörgåsbord, the buffet-style meal originating in Sweden, served on a table with multiple hot and cold dishes of various foods.
Although I've never eaten an authentic smörgåsbord, I can imagine it would be a welcome centrepiece to a party – along with a glass of wine or two – being able to satiate quickly those who are hungry, while pleasing the guests who wish to select their favourite morsels or perhaps amuse the daring ones who wish to nibble on the spicy unexpected ingredients. The editors of this book provide the table and the space for the buffet and the guests have each been invited to bring a dish of their own to add to it. Fortunately for us, the editors know how to lay on a good spread, inviting a range of people who they will have known could provide an assortment of dishes to suit most palates.
Ok, so what do we get and how should this book be read, or how should our smörgåsbord be eaten? I sampled the chapters over an extended time, savouring one and then coming back later for another, albeit systematically. You could equally select chapters in any order, choosing the ones that seem most relevant or interesting. Chapters are short and easy to read in a relatively short space of time – making them good for busy practitioners. Inevitably, citations and scholarship do not provide comprehensive coverage, but as you work through the chapters, you see all of the debates, issues, evidence and perspectives on this topic known to even the most seasoned campaigners – some of whom have contributed the chapters.

Having had your taste buds piqued, readers then may wish to go beyond this book, to deepening their knowledge of the many fields that overlap in this Venn diagram where research-informed teaching lies: organisational change, ideas about knowledge, the nature of teacher professionalism, the challenges of knowledge mobilisation, teacher professional development and the notion of 'what works' research and so on.
Edited books also have the risk of lacking coherence, order or a meta-narrative. I'd say this is perhaps the biggest criticism of this volume – that the guidebook given in the concluding chapter was not given earlier in some form. I would have liked some signposting to group these chapters more explicitly into sections. Partly as a result of this, I found the chapter by Gorard, coming near the end of the book, jarring, as it came without warning.
His lament on the paucity of decent research to guide evidence-led teaching takes a narrow position on research-engagement, rather dismissing research outside of the quantitative what works' realm. This is fair enough, if our only question is about the ability of research to instruct teachers about the best methods to use to raise student attainment in standardised examinations. He excludes the benefits of research to guide professional development and to illuminate practice by providing a theoretical lens, among other reasons.
His point about the need for more research about research use is nevertheless a fair one, albeit narrowly framed. Gorard's chapter was counter-balanced partly by the following chapter from Karen Wespieser on the need for educational researchers to get closer to the chalk face and indeed most of the preceding chapters embodied how to bring research 'close-to-practice'. In the final chapter, Brown, Flood and Handscomb express the important point that the 'effectiveness' of research-use should not be defined purely in terms of improving test results but using wider parameters, and that teaching should also be led by values and issues of desirability.
Having failed to receive an invitation to the party (I'm not bitter), it seems that I've been brought in at the end – as the food critic perhaps? I'll take it as a complement that my view has been sought. If you see the value of a smörgåsbord as I do, then buy this book. For practitioners and post graduate students who wish to get a good overview of the field of research-informed teaching, this book is a great introduction to sink your teeth into.
David Godfrey, Associate Professor in Education Leadership and Management, Centre for Educational Leadership, University College London (UCL).
Register for free
No Credit Card required
Register for free
Access to 3 free articles
Free TeachingTimes Report every month