Industry News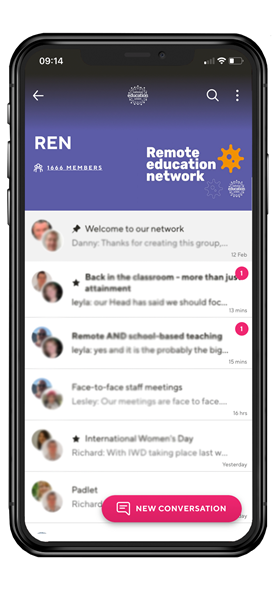 At the start of the COVID-19 pandemic, teachers had to shift to remote education quickly. There was very little time to adapt schools found it challenging to deliver the curriculum online to pupils.
Many teachers looked to senior management for guidance during these turbulent times. As the lockdowns and social distancing measures saw no sign of ending, it became clear that there needed to be an effective way of bringing people together, enabling them to share best practice and offer support to one another.
The NEU joins forces with Guild
The National Education Union (NEU) did just that. Using the community and professional messaging platform, Guild, they created groups to allow members to offer support, to share best practice and to help them deal with the new issues they were facing as a result of the pandemic.

The community was set up as an online resource to support education staff and collectively overcome the challenges associated with remote learning. It was part of a wider innovation hu and provided expert advice and guidance. After just a few weeks, the community had 1,300 members and it has continued to grow and develop as teachers have discovered new methods of engaging and motivating pupils.
Dr Mary Bousted, Joint General Secretary of the National Education Union, said: 'As the pandemic continues to bring chaos, and politicians bluster and change direction, education staff are working hard to maintain stability for children and young people, and to create the conditions they need to learn well.
'The NEU's new Remote Education Hub brings together guidance with expert advice on pedagogy for remote learning, freely available to all, with a bespoke platform for members to share innovative practice and to support each other through the obstacles. This puts education professionals at the heart of developing professional practice.'
Support from the community
Members of the NEU Leadership community also shared how they have benefitted from the Guild platform. Louise Moores, a primary school teacher, school rep and NEU local officer in Middlesbrough said: 'The Remote Education Hub has been a fantastic resource for a whole range of reasons. I am a teacher of mainly SEND and EAL pupils and it has provided practical hints and tips to support remote learning. As a union officer I have found that it is somewhere I can signpost members for union guidance about remote learning and as a tired human, feeling overwhelmed by teacher-bashing in the media, the praise section has really lifted my spirits in darker times.'
Sharing ideas
Stephanie Hancock, an Early Years teacher in Gateshead, has used the hub to support remote learning for younger children, which has been particularly challenging. 'EYFS education is all about building relationships – with the classroom environment as another 'teacher'. We have worked hard to to keep those positive relationships and learning through play during this period of remote learning but it's easy to run out of steam! The Remote Education Hub has enabled me to connect with other EYFS professionals. We organised an EYFS EduMeet session through the hub and it was a fantastic opportunity to share ideas, advice and resources. It is great to know you are not alone and that if you need some inspiration there is somewhere to go!'
Laura Cooper, a primary teacher in the fourth year of her career, highlights the wellbeing benefits of the community: 'I think the Remote Education Hub is a fantastic tool for teachers in these really challenging times. The bank of resources is great; I particularly like the focus on staff wellbeing. We are so focused on making sure the children are OK, but it's nice to see someone checking that we are okay and having the provision of support where needed. Just having the hub and bank of resources lessens our workload.'
The transition to remote learning
It's not just the National Education Union and its members who have utilised Guild during the pandemic. A growing number of schools are also using the platform, having migrated from WhatsApp, which is not GDPR-compliant, among other factors that make it unsuitable for use in schools.
While email can be used for 'push' communication, communities provide a more open, collaborative feel, where staff can come together to share success and learning, providing advice and guidance for developing future lesson plans or sharing helpful online tools and resources to improve the remote learning experience for students. In addition, with many teachers having limited or no experience in teaching remotely, training sessions have been developed within communities to ensure all staff are supported.
The mental health of many teachers has been impacted and communities have proved to be a space where staff can be less formal and voice their concerns to their peers. It's not just pupils who feel isolated during these difficult times so these communities have also supported staff wellbeing and boosted morale.
Some schools have also been using Guild to communicate and share information on the government's Coronavirus briefings throughout the pandemic. They have created sub-groups and threads within these communities to strategise how teachers plan ahead for a safe return to the classroom.
What is the future for online communities?
With the end of the UK's lockdown finally within touching distance, and as educators move away from remote learning, these online communities will stay in place, providing a space to share ideas and offer support. There are many thriving sub-groups based on specific interests so teachers will find the support they need, whether that is for a particular academic topic, pastoral care or school management issues, through to nurturing their career and maintaining their own wellbeing.
Whilst a return to the classroom is imminent, those working in education have faced unique challenges over the past year with perhaps more to come. The emergence of a supportive, dedicated community where teaching professionals can share, review, network and empathise is undoubtedly one of the more positive outcomes of this incredibly difficult year.
To learn more about Guild, visit their website!
Register for free
No Credit Card required
Register for free
Access to 3 free articles
Free TeachingTimes Report every month