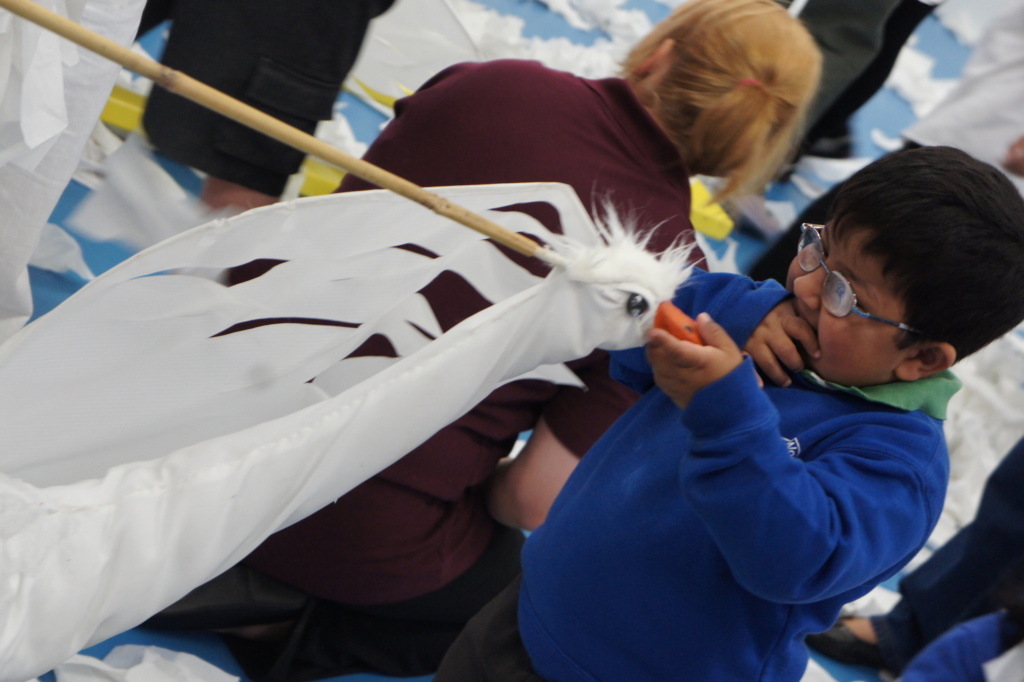 While large parts of the UK think that theatre started around the time of Shakespeare, people in Coventry know it has a much older history. The ten Coventry Mystery plays cover Biblical stories from Creation to Doomsday, featuring favourites such as Adam and Eve, Jesus in the Temple and Noah's Flood.
They were first performed in 1392 and one of the most dramatic – the Slaughter of the Innocents -lives on in the Coventry Carol, a sad lullaby sung by mothers of the doomed babies, which is often performed by Kings College Cambridge or Westminster Cathedral as part of nativity celebrations.
Moving forward to the twentieth century
Post-war Coventry became synonymous with theatre that was exciting and different. When theatre censorship was abolished in 1968 Coventry Cathedral was the setting for the first portrayal of Jesus Christ by an actor since the 17th century when Puritans banned theatre in 1642.
The Belgrade Theatre was the first civic theatre to be built after the Second World War in Britain and was named for the present day capital of Serbia that provided the timber. It kickstarted the careers of some household names including Ian McKellan, Michael Kitchen and Clive Owen. In the 60s it was a major venue bringing lesser known European playwrights to a wider audience.
The Belgrade pioneered Theatre in Education in 1965 as a way to use theatre and drama to create learning opportunities for young people. Actor-teachers from the Belgrade's permanent TiE Company tour local schools where they would perform short pieces of theatre and lead workshops that allowed students to explore issues and ideas in active and creative ways. It was part of a movement of taking theatre out to people and involving the community.
Since the millennium it has been known for large scale outdoor events merging circus skills, story telling, promenade theatre and collaborations with international companies such as the Polish troupe Teatr Biuro Podrozy.
2012 saw one of the most ambitious projects with the six metre high puppet of Lady Godiva travelling from Coventry to London to celebrate the Olympics. Unlike her naked predecessor, she was dressed in a gown designed by Zandra Rhodes.
Godiva Awakes brought together engineering, theatre and more than a touch of carnival thanks to its creators Coventry carnival company Imagineer Productions and special-effects company Artem. It was the perfect STEAM project before STEAM was a thing schools thought about.
How much of this rich theatrical tradition will be reflected in the forthcoming City of Culture (CoC) is currently under review but one area has made it through, and the man behind it is Richard Hayhow whose company Open Theatre is to play a part in several projects.
Learning Disability Theatre
In 1997 Hayhow founded The Shysters, a theatre company purely for young people and adults with learning disabilities. While there were specialist companies for Deaf performers and artists with physical disabilities such as Graeae Theatre Company, DV8 and Candoco, companies working with young people with learning disabilities had not yet developed a pedagogy that was different from mainstream ways of creating theatre.
Unlike the stuff of Hollywood, work with The Shysters was not an overnight success. 'In fact, in the early days it was crap,' says Hayhow. 'What we got were really bad impersonations of EastEnders.'
Rather than encouraging them to improve their accents and delivery of lines, he decided to go off at a tangent. He brought in full face masks, told the performers to stop talking and stood back to watch what happened.
Once speech and facial expression were ruled out, they were tuning in to communication skills they did not know they had – gesture, movement, mime, dance and over several months they began to collaborate with artists, choreographers, musicians, designers. One of the discoveries was that this new way of working led to non-verbal devising methods which encourage the blurring of character and actor.
According to Hayhow, performers with learning disabilities are particularly able to perform in a way that rings true for audiences, owing to an ability to successfully merge actor and role. Training is essential to enable actors to access this authenticity within performance.
They progressed from being a local Coventry initiative to being a troupe of professional actors with learning disabilities. Shards directed by Kathy Joyce and Fallen Angels directed by Richard were two productions that toured with Arts Council funding and attracted good reviews, 'Surreal, beautiful, mesmerising… on the borderlines of theatre, dance and mime… visually stunning.'
The pedagogy
In her thesis DEFINING MOMENTS: Leadership and Learning Disability Theatres 2017 Susan Caudle sets out to analyse the character and qualities of the best learning disabilities theatre:
'Their premise is that good theatre requires authenticity and that professional actors with learning disabilities have a particular capacity for achieving this feature within performances. They characterise an actor with a learning disability as having a particular kind of authenticity, which comes from a lack of self-consciousness on the performers' part; a lack of overt technique; a sense of being truly in the moment.' (Palmer and Hayhow, 2008: 44).
When the Arts Council funding ended, Richard started to focus more closely on the pedagogy. He took some of the ideas and techniques and tried them out with young children in schools to see if they could deliver the same results in special schools in Birmingham and Coventry.
One of the interesting discoveries is that speech can be an inhibiting medium. As we know, too much teacher talk and children zone out, too much ambient chatter and you have children who experience sensory overload. The pressure to talk can lead to children saying what they think people want to hear or things that they don't mean while the pressure to 'act' often leads to dreadful imitations of EastEnders.
Hayhow cites an example where a child was being urged by a teacher to count to five out loud. With great effort he managed to articulate each word but had no concept of what the words meant. Authentic learning had not taken place
What is the nature of theatre?
Thanks to the National Curriculum, many people see it as the plays they study at school, especially the language, but those who have seen signed performances of Shakespeare may find they are mesmerised by the physicality and sheer beauty of BSL performances and get a completely different theatrical experience from those who are reliant on the text.
While some assert we should be teaching professional skills to young people with learning disabilities, others see acting, dance, music and art as a form of self-expression. Put crudely, these become an alternative and more limited form of therapy that will put pupils in touch with their feelings and help them deal with mood swings, modify behaviour and lead to increased empathy.
For Hayhow, it is less about external stimuli than unleashing innate creativity. In his book Learning Disability and Contemporary Theatre: Devised Theatre, Physical Theatre, Radical Theatre, co-written with Jon Palmer, Hayhow claims: 'The theatrical material is already there within the actors, lying in wait as impulses and emotions in their imaginations and physicality, which we aim to creatively convert into gestures, characters, stories and images" (Palmer and Hayhow, 2008: 108).
He feels he has been exceptionally lucky to work in special schools. He finds that teachers in special schools are more adaptable: 'They quickly learn that conventional does not always work for their pupils and are focused on the individual learner in a way mainstream education never can be.'
Special schools believe OTC has helped students develop transferable skills such as creativity, a willingness to try new things and take risks and the ability to think on their feet. For some students it has led to a lifelong love of theatre. Sam Kendall is Key Stage 5 Expressive Arts co-ordinator at Sherbourne Fields School in Coventry. He said: '… there has been a more direct transition to continue studying and working in the arts. This has involved volunteering and working in local arts facilities, through to studying both in the city and beyond and in some cases professional work in the arts including stage and television work.'
CoC projects celebrate Coventry's hidden river
One of the elements featuring in the forthcoming year as the City of Culture is the river Sherbourne. This was built over post war and virtually disappeared from view until very recently, apart from bubbling up under some of the city centre buildings and causing headaches for the City Engineers Department.
Water, Water Everywhere is one of three project strands to be developed in Coventry special schools. There will be in-school celebratory events in the autumn term 2020 and OTC will deliver workshops on the theme of 'water' every week throughout the school year from Spring 2021 to Spring 2022, using non-verbal physical theatre.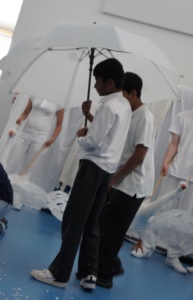 Frogs and Suchlike will send artists into schools to explore the theme of 'what lives in water' and to help young people generate responses in different ways such as through animation, puppetry, spoken word, film-making, photography, circus and movement.
There will be a week-long exhibition in a city centre venue in 2021.
While Coventry doesn't have the miles of waterways seen in Birmingham, it does have its own canal, started by James Brindley in 1768. It connects the city to the Trent and Mersey Canal. It also has connections with the Ashby Canal, the Birmingham and Fazeley Canal and the Oxford Canal. River City Detectives is a heritage project designed to present the city as an attractive and accessible place and to encourage people to visit. The students will be devising scenes and local young filmmakers with learning disabilities will be creating a lasting resource.
Showcasing their work as part of the City of Culture 2021
In April 2022 there is to be a month-long celebration of work that will include a major digital installation of the young people' creative work by the newly uncovered River Sherbourne in the city centre. Alongside this, Open Theatre is also working in partnership with Imagineer Productions to support Jack Foulks, a local emerging artist with learning disabilities, in his major public art project Jack's Frogs'.
Given the way that Covid has disrupted schools in 2020, the work of Open Theatre is mounting an ambitious project but Richard Hayhow is determined to bring all the elements together: 'Coventry is tightly knit city with strong interconnections,' he said. 'It's our ambition to make sure that every young person with learning disabilities is included and has a stake in the City of Culture programme. This will then pave the way for our work in the city over the next ten years: putting the creativity and artistry of young people with learning disabilities at the heart of Coventry's cultural life.'
Register for free
No Credit Card required
Register for free
Access to 3 free articles
Free TeachingTimes Report every month