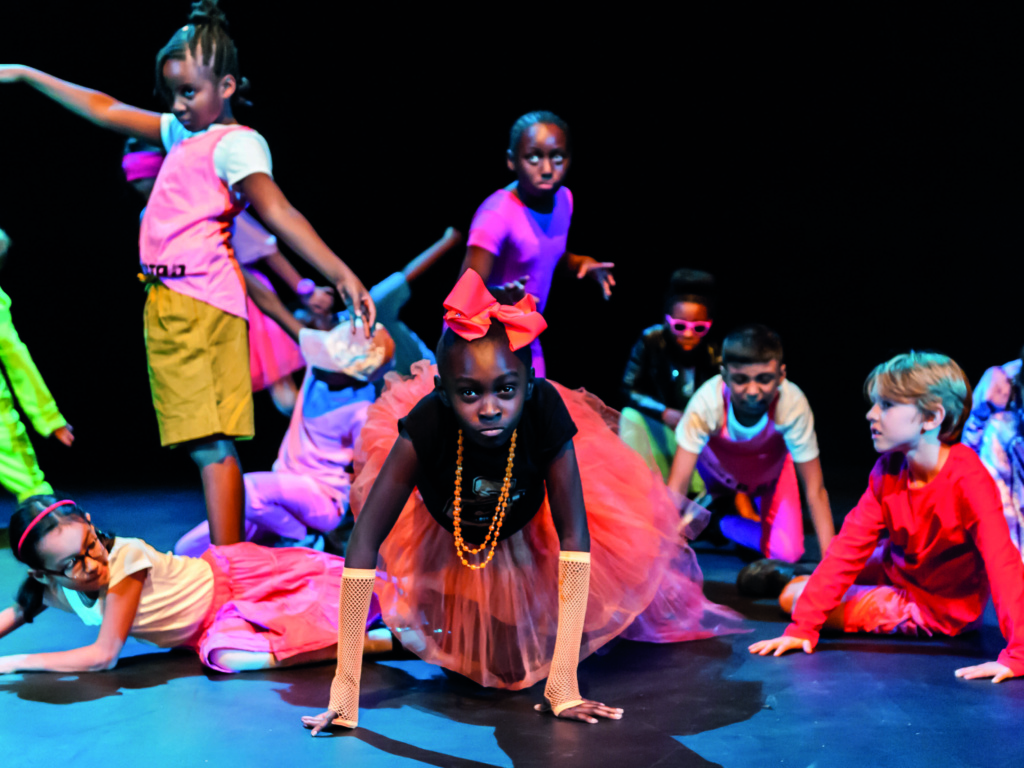 "Our doubts are traitors and make us lose the good we oft might win, by fearing to attempt."
These words belong to William Shakespeare, from his play Measure for Measure, but anyone who has ever worked with a group of young learners may also know and recognise them. Many teachers have seen these moments of 'fearing to attempt' – sometimes it's a hand raised in the air, but then quickly put down again when called upon and sometimes it's a hesitant pause before reading out loud. We know that having the confidence to try is an essential part of enabling our young people to succeed in every subject area, from literacy to maths. But nurturing this confidence, which leads to progress in speaking, reading and writing, can often seem like a mysterious process that does not have a roadmap to follow. It seems surprising on the surface that a playwright born over 400 years ago, writing in language notoriously difficult to unravel, holds some of the richest answers. But among the teachers who have found this to be true is another William, a teacher at a primary school in Gravesend:
"A Year 5 child could barely read before we started. When reading in class he sat staring in different directions and would not engage. His reading level progressed because of his engagement with the Shakespeare script – we worked through this together so that he knew what the words meant and what he had to do. In class he began reading independently…he has also been much more willing to read at home and is reading 2-3 short books per week. Learning the words by heart and saying them in front of an audience of 300 seemed to give him a huge boost in confidence which has carried through into his reading at home."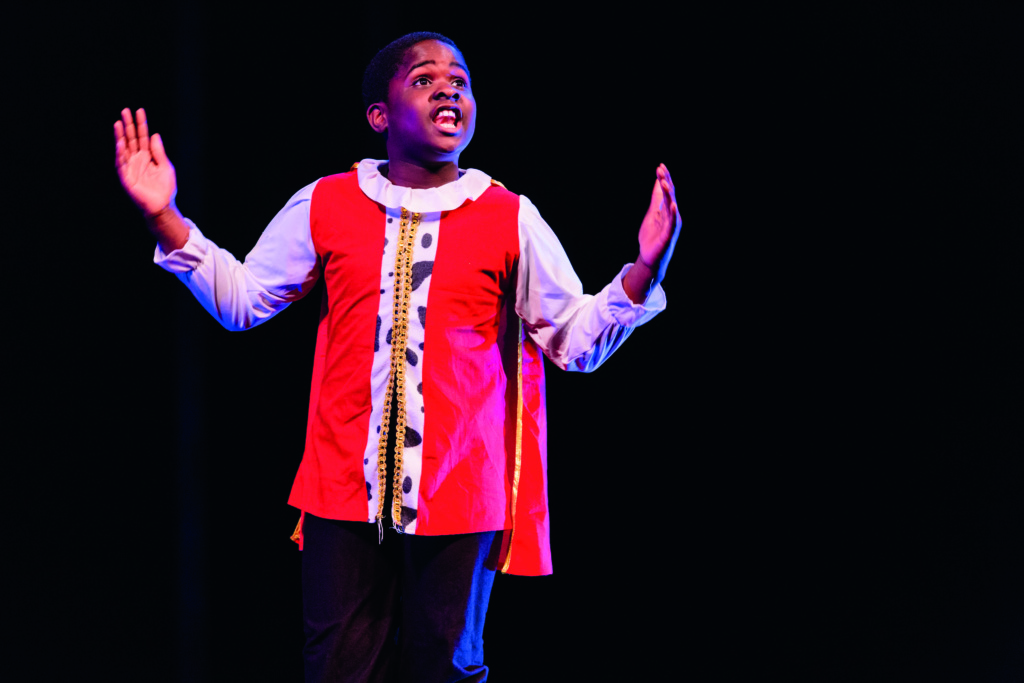 William's words are just one of the many stories I hear of students' confidence, self-esteem, and literacy levels soaring as they perform Shakespeare. William's class took part in Shakespeare Schools Festival, the world's largest youth drama festival and the project at the heart of cultural education charity Shakespeare Schools Foundation. SSF enables over 1,000 schools from every corner of the UK to perform Shakespeare in their local professional theatre each year. A teacher from each performing school takes on the challenge of becoming the 'Teacher-Director' for their show, learning active and inclusive approaches to directing Shakespeare from SSF's CPD workshop, and being supported by specially designed classroom and drama resources and scripts. Young people also attend a workshop with professional actors or directors to develop their skills, before their performance alongside several other local schools and to an audience of their own community, in a celebratory culmination of the process. What's important here is Shakespeare performed, rather than simply read. It's the act of rehearsing and speaking the words onstage which enables students to see their wisdom, humour, and power, and to own this for themselves. The outcomes for young people are profound and far-reaching, as Sandra, a teacher from Margate, explains: "A previous pupil who had autism had been monosyllabic for his entire school career, having been with us since the age of 5. He began to engage in drama in Year 9 with simple exercises learnt at an SSF training day. With three weeks to go before the performance, he stepped in and took on the role of Macbeth with great flair. As a result of the performance, staff and pupils alike began to see him in a new light, his confidence grew and his sense of humour began to shine through. He became more outgoing and engaged people in conversation…It was a remarkable transformation for him."
A rehearsal room in the classroom
It's the role of 'Teacher-Director' which is instrumental in this process. SSF teachers have the opportunity to meet professional actors and directors at their Teacher-Director workshop day, which generates conversations about how the practice of a theatre rehearsal room can contribute to their work in the classroom. A theatre director goes into rehearsal prepared to work with the group of actors, knowing that some of the answers to their questions will be discovered simply by trying things out. A great rehearsal room is a place of experimentation, and of experimenting together. It's through this process of generating new ideas as a group that the work can be formed – the ethos is creative and collaborative. For young people, working in this way means that there is no pressure to get things perfect the first time, and their job is simply to contribute ideas to the team – this can be a powerful and empowering learning process for students.
To practice creating this environment, we invite teachers to apply the principle of the Creative Cycle, by theatre director David Glass (see below).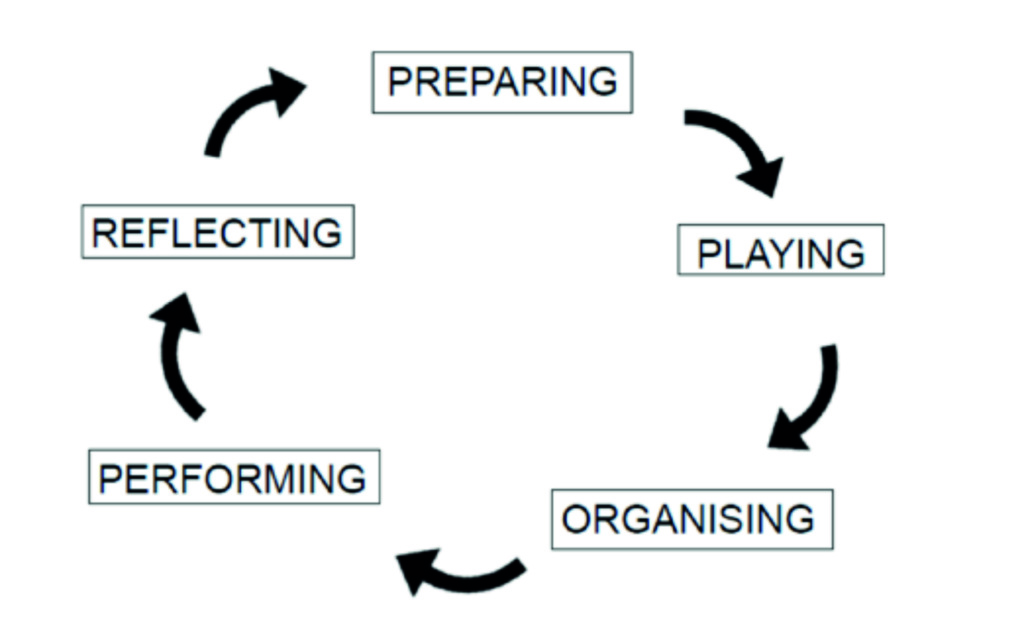 When creating performances, we are often inclined to think about the end product from the beginning – where students will stand, and what they will do in the final performance. But the creative company – the students – have their own ideas to contribute to this process, and they are your key collaborators: this is often where the greatest learning happens. The Creative Cycle is an opportunity to try out ideas, then have a go at performing them, reflecting and refine them, and then begin again, until everyone's happy with the outcome. It can happen over the course of the entire process of preparing the show, or in working on one passage of text. The Creative Cycle gives students space to offer ideas and insight, and feedback to each other as this happens.
A play is play
One primary task in the Creative Cycle is 'playing'. It can be easy to forget that the process of making a play is 'playing', and that actors in Shakespeare's era were known as 'players'. Games are a key part of introducing your students to the worlds of the story which you'd like to tell, ensuring that it has been understood and that they are ready to perform and interpret it. They also provide a way to work inclusively – if you choose a game with words, movement, and opportunities to collaborate, students with a wide variety of different learning styles will access and enjoy it. In 'Stop/Go', we ask students to move around the space, trying to move into parts of the room which aren't occupied by anyone else. We introduce a simple set of words – 'Stop', 'Look to audience', 'Look to sky', 'Reach out', and play with the images which appear onstage when the group perform these actions together. Next, ideas about the characters of the play are introduced, for example, 'Battle stance', or 'Storm'. Students can watch their peers performing the images, and this generates discussion about the characters and themes of the play – what kind of battle is it? Are the characters onstage confident that they will win? Are they a well-prepared army, or fighting their own exhaustion? How can we show this? Through an approach which is active, and importantly, fun, students begin to form ideas about the characters and their situations.
Literacy and language
When we ask teachers to tell us the greatest challenge of teaching Shakespeare, the most common answer is 'language'. Teachers share their concerns that students may struggle to understand old and tricky words in the texts. But it is here that teachers also tell us many of their most aspirational stories: Kim, a teacher at an Edinburgh Primary school, commented, "Rarely have I seen such noticeable improvements throughout the curriculum following an intervention or project. Working intensively on this Shakespeare play has sharpened the focus of the students and awakened a renewed interest in reading, vocabulary and intention. This play, and the associated study, has been the impetus some students needed to engage with new texts and to read aloud with increased confidence, fluency and expression. The fact that many of our performers are also using strategies to manage their dyslexia, EAL challenges or other possible barriers to accessing Shakespearean language, provides us with another reason to feel proud of their achievements."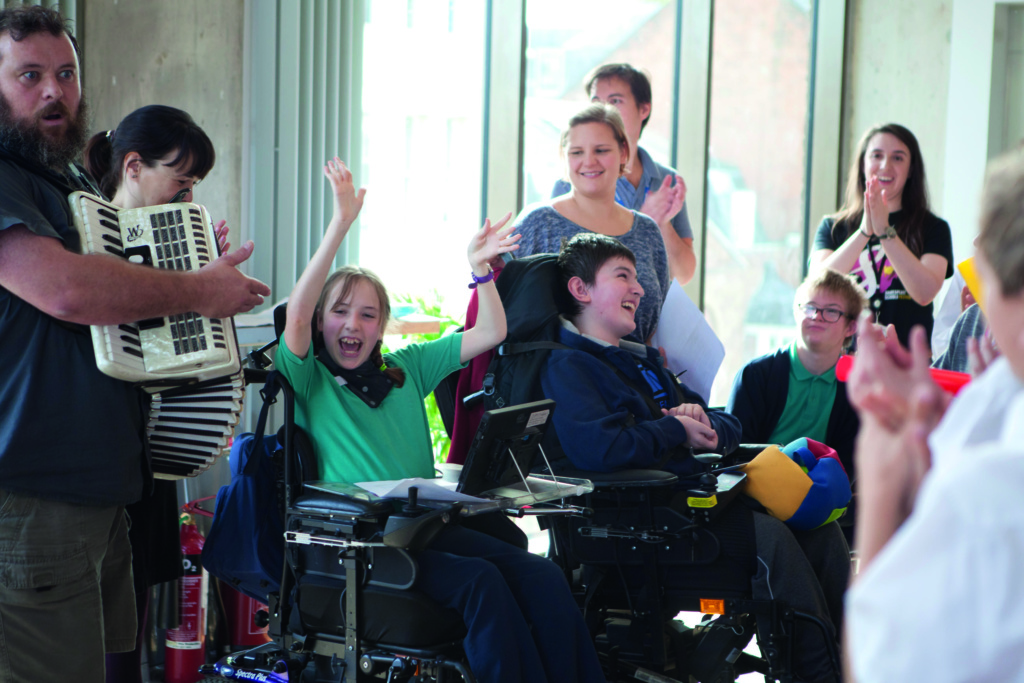 What's most important here is the telling of the story. Shakespeare's plays are about families, about jealousy, about love, about friends, about who's in charge. Seeing these stories performed each night during the Festival, from Barnsley to Brighton, from Devon to Inverness, is an astonishing testament to their universality – young people from every background, on every stage, pronouncing these wise, tricky, funny, strange words and hearing audiences nationwide lean in and laugh and clap as they want to know what happens next. Students love and relish the telling of these stories, and understanding what happens and why is the first step to comprehension of the language which tells them.
The resonance of these stories in our world today provides teachers with plenty of scope to introduce Shakespeare's stories through subject areas, including citizenship and PSHCE. SSF curriculum schemes of work are provided to enable teachers to combine their work on rehearsing their play with what happens in their classroom subjects. For example, in 2018, teachers from primary, secondary and special schools will be able to explore the theme of democracy in Julius Caesar with a series of lessons which lead to students creating their own persuasive political campaigns or participating in an election. In this way, students understand the play's themes, and are much more ready to tackle its words, knowing what the characters would think and say, and why. As Kim's student in Edinburgh told us after their Festival performance, "It made me feel fine and happy. It made me feel like I was flying. I am better at reading. I'm getting way more plays."
The Ensemble
"One student was bordering on being permanently excluded from our school for his very poor behaviour. I dragged him into this show as he has innate talent. It has saved him, given him a purpose, and a sense of belonging."
Sara, a Teacher-Director from a London secondary school, knows that 'a sense of belonging' is what this student needed to succeed and thrive. Students making theatre with SSF become part of an 'ensemble' – a company who are ready to work together and collaborate. By doing this, students develop social and communication skills to be part of a team. Research published by the Cultural Learning Alliance demonstrates that participating in arts activities is a key way to learn these, "When compared to a control group, children in Canada who took part in regular arts activities showed significant improvements in social cohesion, cooperation and pro-social attitudes".1
These communication skills are not only vital at school age. For older students, they have a significant impact on employability after school or higher education. The British Chamber of Commerce Workforce Survey 2014 reported that 88% of firms believe school leavers are not prepared for work and 57% believe this is due to a lack of 'soft skills' such as communication, team working and resilience. In 2017 Nesta published The Future of Skills: Employment in 2030, which found that current occupations predicted to decline due to automation could instead adapt and grow if new skills were combined with the existing skill set. Nesta ranked the skills with the greatest benefits and broadly found they mapped to what are called 21st-century skills, developed by studying art subjects, including 'fluency of ideas' and 'active learning'.
The process of rehearsing a play also proves to develop resilience and 'Growth Mindset'. 'Growth Mindset', a principle researched by Carol Dweck, Professor of Psychology at Stanford University, is the idea that our brain can develop significantly over time, taking on new skills and ideas: when students know and believe that this is possible, they are prepared to work harder and put in effort to keep trying. Kim from Castleview Primary School in Edinburgh explains, "Participants are demonstrating an increased 'Growth Mindset' or 'can do' attitude, and using their performance as a pivotal moment that they will use as a reference point for years to come: the time they realised that fear and excitement are manageable, that obstacles can be overcome with hard work and dedication; and, with the right support and encouragement, anything is possible." Ruth, who teaches at a secondary school in Exeter, comments that this resilience also transfers to exam performance, "They are still talking about it a year later and they used the confidence they gained to approach SATs without fear."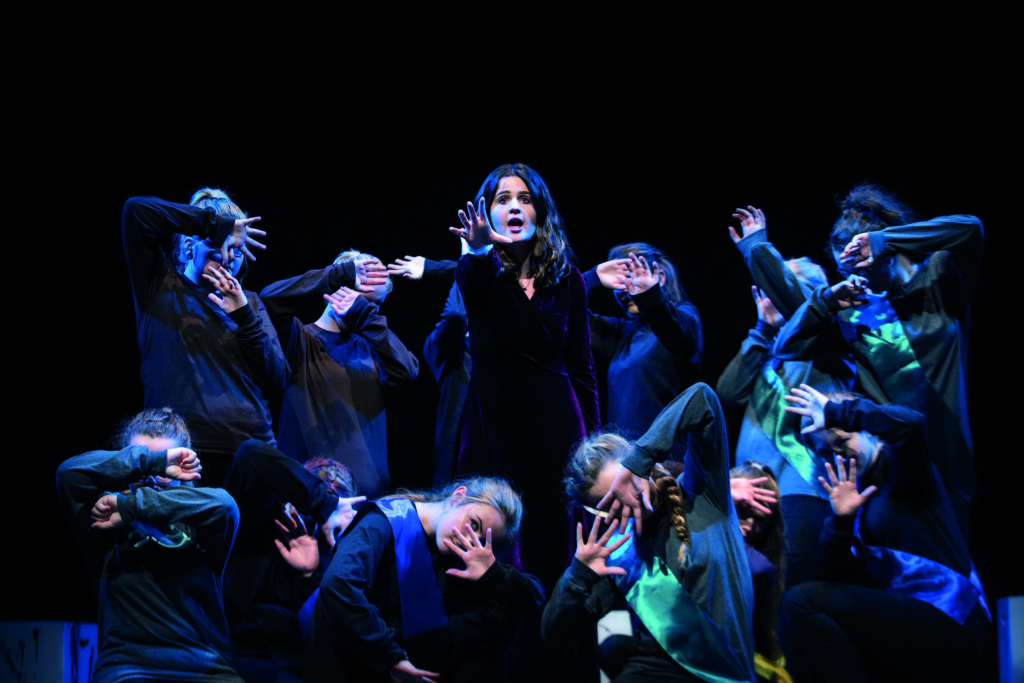 We develop resilience and growth mindset through exercises including a feedback process called 'Challenge, Support and Inspire'. After performing a scene, teachers and students are encouraged to share their thoughts about the work they have seen with challenges, ("Can you try…?") support ("I liked it when you…") and questions to inspire ("I wonder what would happen if you tried…?") In this way, feedback is phrased positively and supportively, but there are also plenty of opportunities for young performers to go further in their learning and ideas, motivating them to try different approaches and compare these.
"We know what we are, but not what we may be".
These words from Ophelia's in Hamlet are a real reminder to teachers and young people – by speaking and performing these plays in front of an applauding audience, young people's aspirations are raised, and this generates a sense of their own potential. 99% of teachers participating in SSF in 2017 felt that their students' confidence had improved as a result of taking part, and 86% saw improvements in academic attainment. Using rehearsal room techniques, play, and integrated classroom activities, Teacher-Directors ensure that their young people are no longer 'fearing to attempt', and reaping the benefits.
Suzanne, a Secondary School teacher, told us about the lasting impact for her class, "One student had been taught in isolation for two terms prior to being introduced to small group work with some members of my cast. His behaviour has improved immensely and he was able to demonstrate his talent on the performance night. Prior to the project, he had difficulties taking turns, waiting, sharing attention, active listening, tolerating noise, building and maintaining relationships and countless other issues…He managed all of these difficulties on the performance night and overcame so many barriers. They form a bond with each other and still talk about the event years down the line – they are excited by Shakespeare and often refer to him as their favourite playwright."
Joanne Skapinker is a Senior Festival Coordinator at Shakespeare Schools Foundation.
NOTES
https://culturallearningalliance.org.uk/wp-content/uploads/2018/03/CLA-Employability-and-enterprise-briefing-A4.pdf