Since schooling began, we have applied the classroom-based model to all students. Historically, virtual learning was simply seen as 'an alternative to normal schooling,' designed for students who couldn't attend mainstream schools, people needing additional support, or something schools used to fill gaps in teaching provision.
Then came Covid-19.
At first, the pandemic and subsequent lockdown took us all by surprise. The initial concern from parents and teachers was about the impact of learning outside the traditional classroom setting with the question of the potential damage that this may have on student development. However, after several months of remote, online, blended learning, teachers and students alike are realising that many positive lessons have been learned; the main one being that online learning suits a lot of students.
What has changed
Over these past few months, online blended learning has become the new 'norm' and a structure that a significant number of teachers and students have thrived on. Across the world, the pandemic has accelerated the adoption of remote learning by about five years and has certainly given the education sector an insight into its benefits. Even prior to the pandemic, various research papers stated that the online educational market will continue to soar.
And while there have been inevitable teething problems in mainstream schools, many are starting to consider whether the future might just have become the present.
It has only been in recent years that schools and families have increasingly recognised the alternative viable option of online schooling. InterHigh attracts students for any number of reasons. We have budding athletes such as table tennis star Anna Hursey, the youngest athlete in the history of any sport to compete in the Commonwealth Games. Anna was able to meet the mandatory schooling requirements by accessing online, fully synchronous, learning. In her words, "Online learning allows me to continue with my education whilst developing my table tennis career."
Another example is the Parsons family. Emma Parsons' two children use online schooling. She said, "each child has their own unique identity and every person is treated as an individual. Yet when it comes to education, most are given the same ways and opportunities to learn. Why then are we so surprised that many children act out or disengage?"
We also have many students who join us for short periods of time, such as international students, or at mainstream schools who just want to come to us to study a specific language that is not supported at their school.
Whatever the individual child's situation and needs, parents and teachers play a hugely influential role in their development. With what we've learned from online learning during Covid-19 and recognising that some children are simply suited to this learning environment, isn't it time that we pay attention to each student and the potential for a better and more tailored way of learning?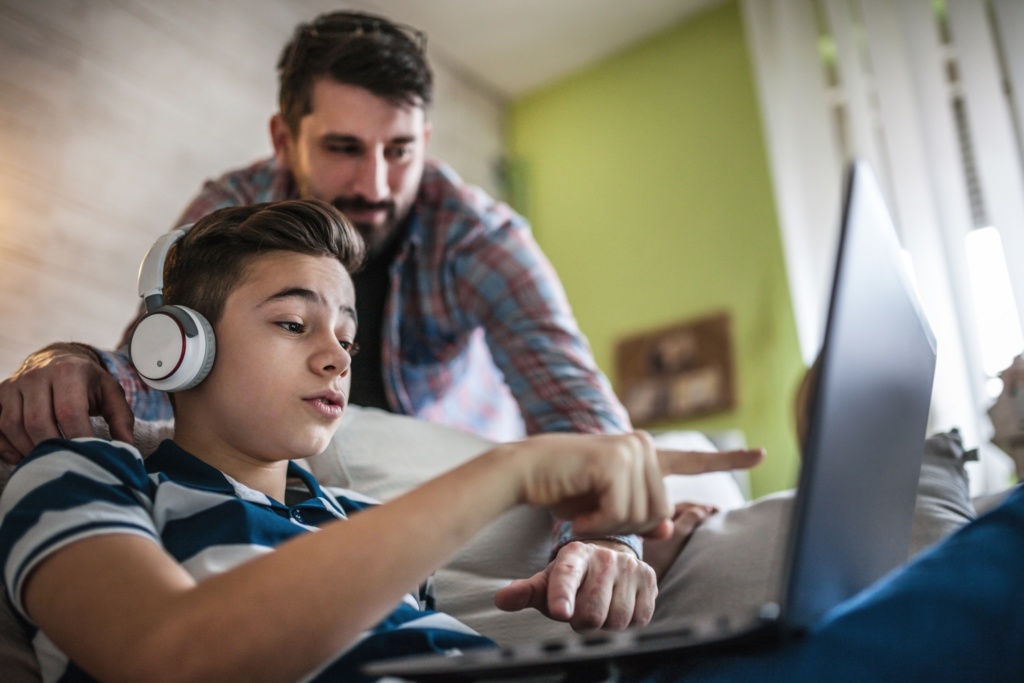 With the experiences I have gathered over the years, into the critical factors affecting the success of remote teaching and working with Wey Education's trained teaching staff, I feel I am well placed to offer my advice to mainstream school teachers who have only just started on their journey of delivering an effective education online.
Many of you reading this will feel that I'm about six months too late with my advice because at the current time we are all set for schools to open in September. However, firstly there could be a phased approach, with half the students attending on one day and the other half receiving the same lessons the next day. Added to this, there is always the danger of closure due to a second wave. We also fear that other pandemics could prevail at any time. More importantly, the time has come for schools to expect that an increasing number of students may elect to continue to learn online.
Whatever happens, online, blended learning is likely continue; we have certainly seen a significant increase in student registration.
With this in mind, what steps should schools be taking to prepare for the best opportunities for their students, whatever the future holds?
The challenges
IT infrastructure
Of course, it is not hard to recognise that the first problem that most schools faced as we went into lockdown was the lack of a suitable IT infrastructure and bandwidth to connect with all its students. We also can't ignore the fact that most schools had students without access to suitable hardware and Internet connectivity. Now we have time to consider the importance of a suitable way to deliver the learning, it is critical that the IT infrastructure is in place and adequately resourced. At InterHigh we ensure that investment into the core IT infrastructure allows for different devices and lower bandwidth to be factored into the design. We also ensure that all students have the appropriate devices to access our school platform, ideally laptops and PCs.
The software to support learning content including interactive activities and videos is vital. The learning platforms that were introduced many years ago to deliver a more personalised approach to learning are becoming increasingly important to store this learning content, upload reading material, provide website links, employ assessment systems and establish areas to upload work for assessment and to download it once it has been marked.
If they haven't already, schools must establish or review a school wide video conferencing (VC) application. We use Adobe Connect due to our key focus upon safeguarding and internet security.
Teaching style
Once teachers were connected with their students the initial belief was that education would continue as always. Very soon there was a realisation that this could only work if they understood the incongruities of teaching online; as most will now recognise it demands a very different skill set. Establishing rapport with the students is challenging at the best of times but in a remote learning environment, specific tactics can be employed to keep them on task and engaged. So how do you make online learning work and make it more engaging than the traditional method of 'information transfer'?
Video conferencing
Teachers may feel that student teamwork can only happen in the traditional classroom setting, but when an online classroom and learning platform are set up effectively, the students can collaborate perfectly well together.
Therefore, the lessons need to be interactive, to engage the students, with as much online 'face-to-face' learning as possible. That sense of comradery, team spirit and enthusiasm is something you can achieve when you're all together, even if it is on a screen during live lessons.
What has worked
Giving students (and teachers) more space to learn
Teachers don't need to feel they have to be online 'teaching' the students throughout the day, as they would in a traditional classroom environment. Giving students a level of autonomy when they have 'free time' in their day to manage their own learning is important. This not only frees up teachers' time but is also something that many students thrive on. It's about identifying relevant, quality learning materials and then leaving more lesson time for the students to deepen their own learning. Teachers should create a list of content such as specific online resources relevant to the topic they are teaching and then ask students to interact with them before the lesson.
When they come together for the live lesson it can then become an informed debate, discussion and interpretation of the information they have studied; more akin to the flipped classroom approach to learning.
It's all about creating an environment in which students actively participate in the learning.
Student Response Systems
Another suggestion, and something we do in our InterHigh classes, is to use a student polling system. Once a concept or topic has been discussed in 'class', the students can be given a number of multiple-choice questions for discussion and a vote. So much valuable discussion and debate comes out of these sessions. It's not only fun for the students but it also gives the teacher an informal 'assessment' platform to understand whether they need further learning on that subject or whether they can move on to the next point.
Teamwork
Just because students in some instances may be learning alone at home doesn't mean that they can't collaborate with their peers. Another teaching method that is ideal for online learning is setting groups of students a problem to solve, before presenting their work and findings to the whole class the following day. When we talk about the importance of making children's education more aligned to the requirements of today's employers, brainstorming, problem solving and presenting their findings all develop highly valuable career skills.
One-on-one assessment
One area of teaching that possibly works better when carried out virtually is one-on-one teacher-student engagement. In school, valuable time and a room will need to be booked for such sessions but with suitable classroom software in place, effective meetings with students can be set up to ensure they are thriving or receiving the additional support they need.
The future
We are already starting to see a post-virus boom in students wanting to join us for an interactive and engaging online learning experience. For some schools it may just be for specific lessons such as languages, where the school can't provide a teacher with the necessary skills, or others it may be that the student simply responds better to some or all lessons online.
AI Technology
As an increasing number of students look for a more blended approach to learning with some lessons at school and some in a location of their choice, at Wey Education, we have been working to bring a higher level of artificial intelligence (AI) technology into our offering.
This is not something I'd expect all schools to have in place at the current time but as the world around us gets smarter, we increasingly expect more personalised experiences and collaborative services. This is particularly true of the younger generations, who have never known a world without the Internet, smartphones or apps. More and more, students are demanding the same ease of interaction with their learning as they would their social media channels and online retailers.
What Covid-19 has shown us is that in this progressively connected world, students' interaction with their learning doesn't need to be restricted by time or location. If they prefer to access learning information in the evenings or work better early in the morning this should be possible. But what happens if they have a question at this time? This is where AI comes in.
At Wey Education we are starting to see how technology such as 'chatbots' can support this more flexible approach to learning. The 'bot' is programmed to deliver responses to frequently asked questions and can understand those questions by interpreting human speech or writing. By analysing past questions and answers, AI also has the ability to 'learn' better responses and solutions. This helps schools to enhance student education and welfare by identifying problems and offering assistance earlier, rather than putting the onus on students to ask for help.
By facilitating and fostering these online communities and providing the services today's learners expect, schools are better placed to not only personalise each student's learning experience but also to effectively attract and retain students.
For further information please visit www.interhigh.co.uk.
Dr Sara de Freitas has worked in research and education across the world for the past 25 years. With a PhD in information science, she has also published several books and over 100 journals on learner engagement, digital education, learning analytics and education policy. At Wey Education she has spent the past few months talking to schools to understand the way they have managed an online, blended approach to learning and how classroom learning experiences connect with the way students learn in a virtual setting.
Register for free
No Credit Card required
Register for free
Access to 3 free articles
Free TeachingTimes Report every month