Little Researchers: How Children In Reception Can Learn To Be Analytical, Exploratory Leaners

What do you think of when you hear 'Project-based Learning'? Do you associate it with words like 'chaotic', 'directionless', 'time-filler'?
In 2018, I had no previous teaching experience of projects, but as a learner I vaguely remember spending a few afternoons each week in year 6, working on a 'project' that involved an alien called Martin! My shaky recollection and the obvious fading of the details can only feed into this narrative that it is not 'proper learning'.
Pedagogical toolkit
I am fortunate enough to work in a school that invests a huge amount of time and energy into staff CPD. As a school, back in 2017, we had just embarked on an exciting, long-term journey to develop our curriculum and pedagogical toolkit. As a result, we gained knowledge of how to equip our children with tools to independently and strategically organise their thinking, make connections between concepts, within and across subjects, and to be precise and analytical.
Our children embraced these skills and we proudly observed a surge in depth and mastery learning, right across EYFS to Year 6. It was during this time that I first heard about the Project approach. Contrary to belief, Project-based Learning (PBL) is not curriculum standards free, teacher-centred or a free-for-all.
It is easy to be swept up in the myth that Projects are not purposeful for long term learning, but this couldn't be further from the truth. The Project Approach demands high levels of motivation from children who have acquired a repertoire of thinking skills; who have the ability to research, hypothesis and discover independent of an adult.
A high-quality Project builds on content and skills, and has a beginning, middle and an end. For us, children having the ability to take this kind of ownership of their learning; embarking on Projects that are meaningful for them, while sharpening the skills they need as present and future learners, is not a tedious endeavour but rather the pinnacle of a curriculum.
The PBL is threefold, an inquiry is initiated as a result of an interest and potential value for the learner, an in-depth investigation follows under the guidance of a teacher, Projects are completed and celebrated. This means children are able to reflect and conclude through a 'showcase event' or other means of sharing their work with an authentic audience.
Over 2017/2018 the children in my Reception class had become versed in using thinking charts as well as understanding and self-expressive strategies such as compare and contrast and inductive learning. I had observed them tackling new concepts and knowledge, in a way I had never seen before. Their skill and confidence in pulling apart information, making sense of it, and 'sticking it' to previously learning experiences was extraordinary.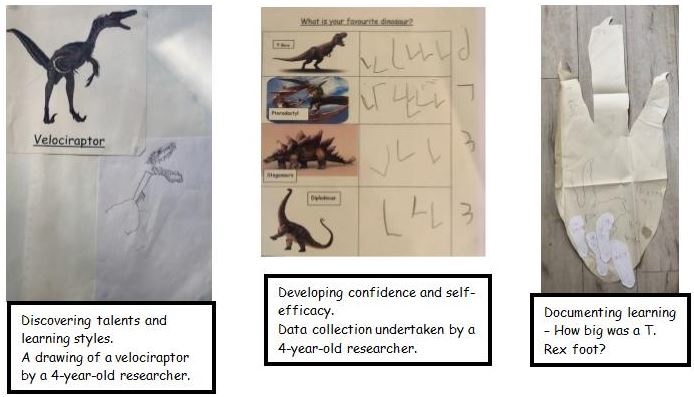 Over a period of time we observed the children showing a keen interest in dinosaurs, through both their play and discussions they had with adults and each other. As a team, we highlighted the learning potential that could come from a dinosaur project, and the opportunity it would give our children to further embed the thinking skills that they had acquired. The first step was to consult with the children and explain the research process. A lively discussion pursued as we gathered information regarding children's existing knowledge and identified lines of inquiry through questions which included, 'what did dinosaurs look like?', 'did they all look the same?', and 'what made them different?'.
Shared thinking
Through shared thinking we were then able to identify and list tools we could use to research. Together, we created the following list:
YouTube – information clips
Non-fiction texts
Pictures/paintings/photographs
Asking an expert
Next, we discussed the ways in which we could record information and learning, and the children suggested that they could document this through writing, drawing, painting, photographs and talking (presentations). Through harnessing this concept of expressing learning in multiple ways, we were able to gather high-quality observations of the children and their learning preferences and styles.
The freedom to document their learning in various ways led to insights into talents that previously had gone unknown. An example of this is when we observed one particular four-year boy spending over 20 minutes painstakingly recreating a computer-generated image of a velociraptor. Upon reflection, I had not known the extent of the pleasure he found in drawing, nor the level of his artistic skill and creative potential.
This happened continuously as children actively participated, making choices that best suited them and their needs at the time. We also observed a surge in confidence and self-efficacy as children who had previously been content to stand back, suddenly began to embrace this freedom of expression.
I watched a group of children study an information clip together; some taking photographs, others drawing pictures and writing notes. They used their thinking skills to then make comparisons and draw conclusions about the various types of dinosaurs and their differentiating features. All of this information was documented and shared with the rest of the class, resulting in questions answered, new lines of inquiry opening, and the process beginning all over again.
Children having the opportunity to consult with experts is a vital aspect of the Project Approach and through contacting the World Museum in Liverpool, we were connected to a man affectionately known as 'Dino Dave'. The children were excited to have the opportunity to present their questions to an expert, and the response from him continued to motivate and propel our Project forward.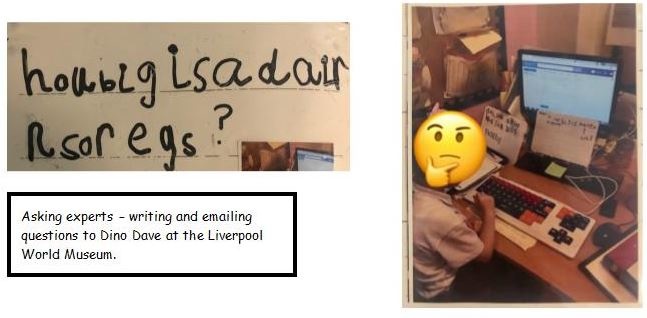 After weeks of high-energy and engagement, the children's interest in the Dinosaur Project came to a natural end. Children's learning documentation had been displayed in the class throughout the investigation, and they had been encouraged to reflect and share information with each other on a daily basis. We would regularly discuss the children's questions with them, giving them the opportunity to reflect if they had acquired the knowledge needed to answer them.
Following the days after the completion of the project, all documentation was transferred into a large A3 display folder and placed in the reading area. In the months that followed the children regularly looked back at the project and would tell their own learning story that came as a result of it.
Children leading research
At the end of the following year, in 2019, I was asked to support a research team in Ks2. A group of year 5 children had been identified as mastering the skills needed to undertake a Project of their own. It was an exciting prospect, to have the opportunity to witness how our older pupils would led the researching process. Our school is situated in Seaforth and at the time there was a sense of community unrest. The expansion of the Seaforth docks, and the proposal to eliminate more green space to create a through road, had taken its toll. The children were keen to explore this and agreed the following research question:
How will the expansion of the Seaforth dock impact on our school community?
I watched as they used spider diagrams to dissect and examine the bigger picture, exploring related issues that needed to be addressed if they were to draw conclusions. They noted the following lines of inquiry:
The impact on local businesses
The impact of noise and air pollution on our community and the environment (as result on the expansion)
The history of Seaforth dock – advantages of the expansion?
The impact of the area's increasing loss of green space
They each chose a line of inquiry and through independent research at home and sessions in the ICT suite at school, spent the next few weeks gathering information and sharing it at the start of each of our meetings. They had a greater understanding of tools that could be used to research and compiled a list including: Amazon Echo, Twitter, questionnaires and interviews. It was decided that we would set up a Twitter page, which was then shared on our school account and received great support from the local area.
The group were keen to hear the views of the people affected by the expansion and using a free software programme were able to make and share a survey with our school community. The response from this was phenomenal and the passion displayed by the children, who were genuinely moved and outraged by people's experiences, will always stay with me.
The children had just began analysing data and discussing how they wanted to present their research, and to who, when the first national lockdown was announced in March 2020. It was a bitter way to halt the process and I felt a huge sense of sadness for the group. We hope that they will have the time to complete their research in the future.
If carried out correctly, Projects offer a pedagogical tool that takes learning to a new level of depth. As a school, our journey into project-based learning has only just begun. We will be looking into setting up more research groups once the children have returned. For us, the aim is that one day all of our pupils will engage in Projects that elevates their learning and empowers them to be the voice of the future.
As one Twitter supporter commented on our Project page, "Up the bairns!".
Deborah Ventre is an early years specialist at the Rimrose Hope School In Sefton Liverpool.