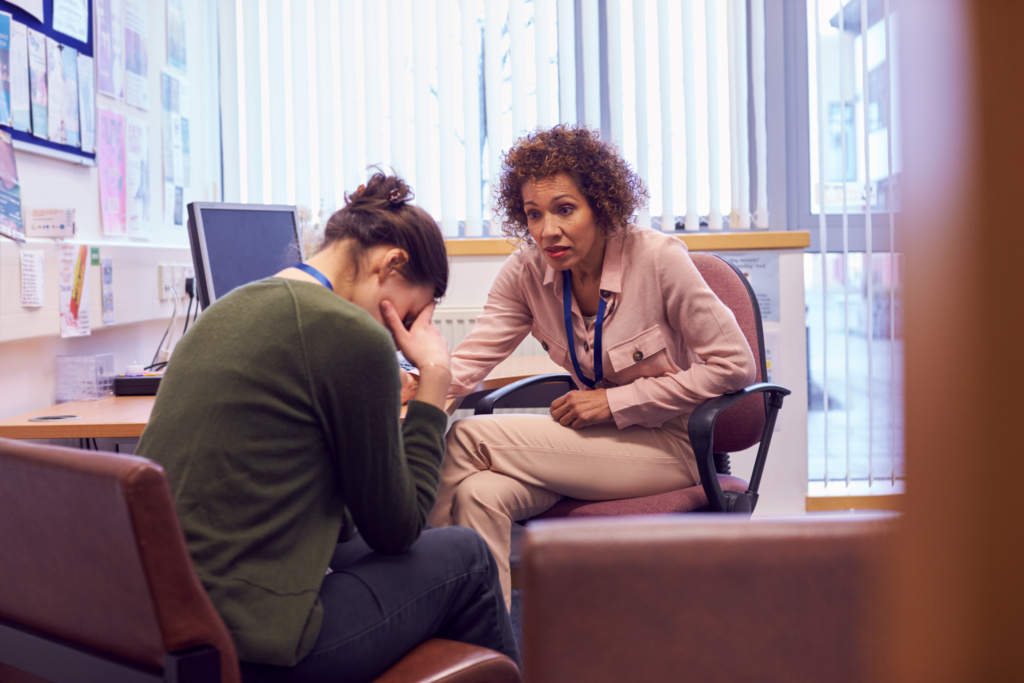 'Poor management of work-related stress can amount to just that – a contract for ill health. 'This was the view of Peter Kelly, Senior Psychologist at the Health and Safety Executive, which he shared at the recent MAD World Digital Summit (Make a Difference in workplace culture, mental health and wellbeing)[1].
'It is as if organisations are saying to their employees 'I'll teach you to be better but I'm not going to do anything systemically or organisationally.'
A new Health and Safety Executive Standard (ISO45003) due to be published July 2021 will give guidance on how to address this need for organisational change. It draws on best practice across the world and will give organisations a clear framework to make sustainable change by embedding wellbeing, rather than simply paying lip service to it.
Long overdue
It is long overdue for the education sector, where the rate of teachers leaving the profession is a well-documented concern and testament to the fact that there is a systemic problem.

In a report Covid-19 and the classroom[2] 52% of teachers reported a negative impact on their mental health as a result of the pandemic but even before that The Teacher Wellbeing Index reported:
· 57% of those surveyed had considered leaving the sector in the previous 2 years and
· 72% felt stressed and
· 49% believed their organisational culture had a negative impact on their mental health and wellbeing
Of even greater concern is the stigma surrounding mental ill health as the index reported 60% of education professionals would not disclose their stress or mental health issues to their employer. There were a number of contributing factors:
· 43% believed their organisation had not properly supported employees with mental health problems
· 26% felt there was a stigma that prevented them from talking about mental health at work
· 31% of senior leaders shared this view
· 69% of education professionals felt they did not have enough guidance about mental health and wellbeing at work
What senior leaders should do
While Ofsted inspections include asking staff about their wellbeing, the measure of leadership success and accountability as described in the inspection handbook[3]is very tenuous. It is weighted in favour of pupil attainment; engaging with staff; realistic and constructive management of staff; dealing with issues such as workload consistently, appropriately and quickly. But how consistently are line managers trained, measured and held accountable?
If consistent culture change is to take place across the education sector, then a good solution to address the lottery of mental health awareness would be to implement an extensive training programme, starting with senior leaders.
As a Mental Health First Aid Instructor, I have encountered many reasons why headteachers believe training is not needed in their school. These seem to centre on embarrassment – 'Staff won't want to talk about their mental health with colleagues'; fear – 'We don't want to open a can of worms' ; avoiding liability 'We don't want to be held liable if people diagnose the wrong thing'.
To put the record straight on these issues, diagnosis is not part of the MHFA role and we all have mental health, which fluctuates all the time and needs as much care and attention as physical health. Silence and isolation are a recipe for mental ill health so we need to create a culture that enables honest disclosure without fear of repercussions.
What The Teacher Wellbeing Index shows is the consequence of ignoring the well-being agenda and hoping that problems will disappear.
What we can learn from industry
At Unilever PLC they have put wellbeing at the centre of their organisation for the past five years; Leena Nair, Chief Human Resource Officer, who spoke at MAD World Digital Summit claims that for every $1 invested in wellbeing the return has been $2.5. Holistic change was driven by focussing on four strands:
· Culture – breaking down stigma and creating a safe space for everyone to talk about mental health, including senior leaders
· Leadership – training at all levels of leadership to notice early signs of difficulty and how to intervene; measuring these soft skills and making them accountable
· Prevention – incorporating four elements of wellbeing (physical, mental and emotional health and sense of purpose) as part of their annual staff development alongside career training and development needs
· Support – Employee Assistance Programmes, Mental Health First Aid Champions and asking staff regularly what they need and acting on this
Once training and expectations have been set, the key to ensuring change is measuring the impact and holding people accountable.
Leena Nair spoke candidly about senior leaders 'getting the boot' if they did not achieve sales or productivity targets – 'there is no confusion' about the consequences, and therefore if wellbeing is truly embedded in the agenda of senior leaders, targets for this should also be set and leaders held accountable in the same way.
Unilever found in their recent Univoice survey that 85% of employees believed the company cared about their wellbeing, which compares with only 40% 5 years ago – but they are aiming for 100%.
ISO45003 will give a toolkit for setting up a psychological safety management system. At the MAD World Digital Summit, Dr Richard Caddis, Director of Health, Safety & Wellbeing and Chief Medical Officer at BT Group, said: 'The organisation's level of commitment and direction with respect to psychological health & safety is set out in policy statements, guidelines, objectives and strategies.'
Clearly this is not a quick fix, but it can be done in education as some schools are already proving.
Lessness Heath Primary School was the first school to achieve the Wellbeing Award for Schools,[4] which looks at pupil and staff mental health and wellbeing, via eight objectives and 50 Key Performance Indicators.
Headteacher at the time, Kate O'Connor and her Wellbeing Leader Kelly Hannaghan described, at our Health and Wellbeing Conference, their three year journey of embedding staff wellbeing into everything they did and the transformative effect that this had on the lives of staff, pupils and families.
Barriers to change
In order to deliver the holistic change that embedding wellbeing at every level and in every activity requires, the MAD World Summit contributors all agreed this needed to be driven from the Executive Board with a clear agenda. Unfortunately, in the education sector, there is no single board of decision makers who can take responsibility for this and make this happen. There appears to be different agendas from different sources. These can have conflicting priorities, because there are different stakeholders who need to be considered and ministers are often in post for only a short time. Schools are dizzy with the range and frequency of guidance and initiatives that they need to trawl through in addition to their day job.
Organisational change requires a consistent and concerted approach, which will only happen if there is an element of legislative clarity to raise it up the agenda of even the most reluctant headteacher.
Tools to support change
The courses developed by MHFA England, not only teach the science of mental health but enable participants to understand themselves, their own values, misconceptions, unconscious bias, triggers and support mechanisms.
Training is most successful when all staff, including senior leaders and CEOs, participate as this creates a sense of trust with everyone understanding the language to use and the expectations of supporting each other. It will help to dispel the myths that create the shady shaming culture and give people the confidence to proactively talk about mental health, even when this brings unsettling emotions to the fore. Being heard can be transformative. An understanding of the early signs and interventions that are available will encourage people to take action at an earlier stage and hopefully avoid illness setting in.
Delegates from my last online MHFA course found the training very rewarding. One delegate said: 'It is definitely worth doing. Everyone will encounter someone with a mental health need, and it is good to be able to support them in the right way,' and
another added, 'Do the course! It's helped me on a day to day level with others and my own mental health wellbeing.'
Access to counselling
Who can headteachers talk to about their own mental health concerns? Clearly MHFA training would help to increase their own self-awareness, but with all the pressures that they face, creating a supportive senior leadership team to turn to is imperative.
The plight of former headteacher Andy Hollinghurst is one of many that current leaders could learn from, as he describes how he ignored and hid the signs of stress, and the subsequent long term outcome of his eventual nervous breakdown on his career and personal life; Teaching brought me to a nervous breakdown – now I'm helping others. We all need to understand that mental ill health is not a weakness, it is our biology.[5]
Self-help resources
Many schools buy in to an employee assistance programme (EAP) to support their staff, but do not make full use of it. While there is always a 24/7 helpline with access to counselling, an integral part of the Optima Health EAP service that my company provides to schools[6] is the wellbeing website, which incorporates health assessments, goal setting, life-style information and self-help videos, factsheets and signposting. EAP should be promoted to staff as part of their ill health prevention strategy not just for when the challenges of life become overwhelming.
Staff surveys
One way to accelerate wellbeing change in all organisations, is to make staff surveys a statutory requirement, in the same way as the HSE risk assessment. The Teacher Wellbeing Index is great for taking the temperature of the whole sector, but we need to hear what is happening at a local school level.
Sinéad McBrearty, CEO of Education Support and member of the DfE Wellbeing charter EAG, also agrees with the need for more involvement from teachers. At the Local Government Association webinar on 2nd October (Supporting the mental health and wellbeing of staff in schools[7]), she outlined her recommendations for change in three areas: system, workplace and individual levels, in order to regain trust, reduce workload and accountability pressures and give more training and focus on mental health awareness and support.
Teaching is an immensely rewarding, important but currently challenging job. We need to listen to teachers and give them the training they need to flourish in order to turn the tide on the numbers who sadly find it is a contract for ill health and subsequently leave the profession. No one underestimates the challenge, but I am hopeful that working collaboratively will bring meaningful change.
About the Author
Melanie Nunn has worked for the Education HR team at Strictly Education for five years. She is accredited by Mental Health First Aid England and tailors her delivery of training to schools and colleges so that it is specific to the education sector.
Strictly Education offers a wide range of Mental Health First Aid courses. For more information or to discuss bespoke training email eduhrsupport@strictlyeducation4s.co.uk Tel 0800 073 4444 Option 3
Or go to our web page https://www.strictlyeducation4s-hr.co.uk/our-services/hr-training/adult-mental-health-first-aid
References
1. MAD World Digital Summit: Make a Difference to workplace culture, mental health & wellbeing; 8 October 2020 https://madworldsummit.com/
2. Tackling work-related stress using the Management Standards approach; HSE March 2019 https://www.hse.gov.uk/pubns/wbk01.htm
3. Teacher Wellbeing Index, Education Support Nov 2019 https://www.educationsupport.org.uk/resources/research-reports/teacher-wellbeing-index-2019
4. Covid-19 and the classroom: Working in education during the coronavirus pandemic. The impact on education professionals' mental health and wellbeing; Education Support July 2020 https://www.educationsupport.org.uk/resources/research-reports/covid-19-and-classroom-working-education-during-coronavirus-pandemic?utm_source=social&utm_medium=Twitter&utm_campaign=covid-report
5. Teacher recruitment and retention strategy; Department for Education January 2019 https://www.gov.uk/government/publications/teacher-recruitment-and-retention-strategy
6. Dare to lead; Brene Brown 2018 https://brenebrown.com/
7. Five health and wellbeing strategies you can learn from the winner of this year's CIPD Award; PM Insight 18 December 2019 https://pminsight.cipd.co.uk/five-health-and-wellbeing-strategies-you-can-learn-from-the-winner-of-this-years-cipd-award?utm_medium=EMAIL&utm_campaign=promotion&utm_source=20200120&utm_content=&utm_source=mc&utm_medium=email&utm_content=pm_daily_300120.Five+wellbeing+strategies+you+can+learn+from+an+award+winner&utm_campaign=7295441&utm_term=562813
8. School inspection handbook; Ofsted November 2019 https://www.gov.uk/government/publications/school-inspection-handbook-eif
9. Introducing the Wellbeing Award for Schools; Optimus Education and the National Children's Bureau https://www.awardplace.co.uk/award/was
10. Teaching brought me to a nervous breakdown – now I'm helping others; Doncaster Free Press 14 March 2019 https://www.doncasterfreepress.co.uk/news/teaching-brought-me-nervous-breakdown-now-im-helping-others-76823
11. Help Employee Assistance Programme; Optima Health and Strictly Education https://www.strictlyeducation4s-hr.co.uk/partner-services/employee-assistance-programme
12. School workload reduction toolkit Department for Education July 2018 https://www.gov.uk/guidance/school-workload-reduction-toolkit
13. DfE Reducing Teacher Workload: school presentations plus Ofsted on workload; Teacher Wellbeing, Workload & Impact on Schools https://www.eventbrite.co.uk/e/dfe-reducing-teacher-workload-school-presentations-plus-ofsted-on-workload-registration-121711252633?utm_medium=email&utm_source=govdelivery
14. Extra mental health support for pupils and teachers; Department for Education June 2020 https://www.gov.uk/government/news/extra-mental-health-support-for-pupils-and-teachers
15. Supporting the mental health and wellbeing of staff in schools webinar; Local government Association, 2nd October 2020 https://www.local.gov.uk/events/past-event-presentations
Register for free
No Credit Card required
Register for free
Access to 3 free articles
Free TeachingTimes Report every month