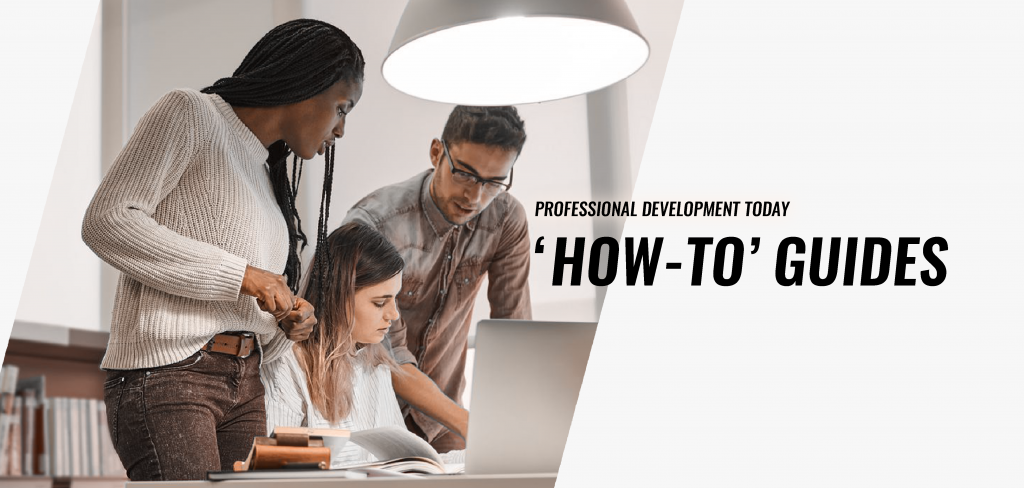 Collaboration is now the name of the game, here and internationally. What was previously often thought of as cheating is, quite simply, smart. The most successful countries and jurisdictions that have continued improving have done so through a blend of peers working together and innovation (Mourshed et al, 2010). And the latest findings of the international TALIS study (OECD, 2013) highlight the importance of professional learning communities. Increasingly, schools are also connecting with each other, whether as part of teaching school alliances, federations, multi-academy trusts, or informal partnerships and networks. Many are finding that in a learning community, the whole is more than the sum of the parts; that focused collaboration makes a difference to everyone's learning, including that of pupils.
But how does this apply to research? Often when we think about research, it's something undertaken by an individual teacher or leader, often associated with a programme, course or higher degree. Collaborative enquiry is a form of practitioner school – or partnership-based research and development (R&D) – that broadly involves four I's – interdependence, impact orientation, investigation and innovation (also known as intervention). It can help those who engage in it "design better and more effective interventions and strategies" (Jackson and Street, 2005, p.11), and there is also evidence that it has benefits for teachers' sense of self-efficacy (Butler et al, 2015).
Teaching schools have a remit to lead R&D – it's one of their 'big six' responsibilities. From 2012-2014, 98 alliances around the country were involved in projects exploring, designing and evaluating initiatives focused on three of their R&D network priorities, which I call 'three greats' (Stoll, 2015a; Stoll, 2015b): great pedagogy, great professional development which leads to great pedagogy, and great leadership which leads to great pedagogy. The aims of the project were to produce robust evidence which could be shared widely, while building the capacity and commitment of teaching schools in their use of R&D approaches and evidence.
Participating teaching schools alliances were supported by two national teams, each of which had their own framework for collaborative enquiry. You can read more about these in the teams' reports (Nelson et al, 2015; Rea et al, 2015 https://www.gov.uk/government/collections/research-and-development-network-school-based-research-on-pedagogy
The 'HOW TOs' following this one, written by Carol Taylor, Karen Spence-Thomas, and Simon Rea, national team leaders, focus on each of the three greats. In this HOW TO, we'll look at the overarching messages from across the three sets of projects and think about what they mean for making a difference to teaching and learning through collaborative enquiry. You'll find more detail about all of the topics covered in my report (Stoll, 2015a) There's also an executive summary (Stoll, 2015b). https://www.gov.uk/government/collections/research-and-development-network-school-based-research-on-pedagogy
Focusing on what matters
Making a difference to teaching and learning is most likely when the three greats are considered as mutually influential and interconnected.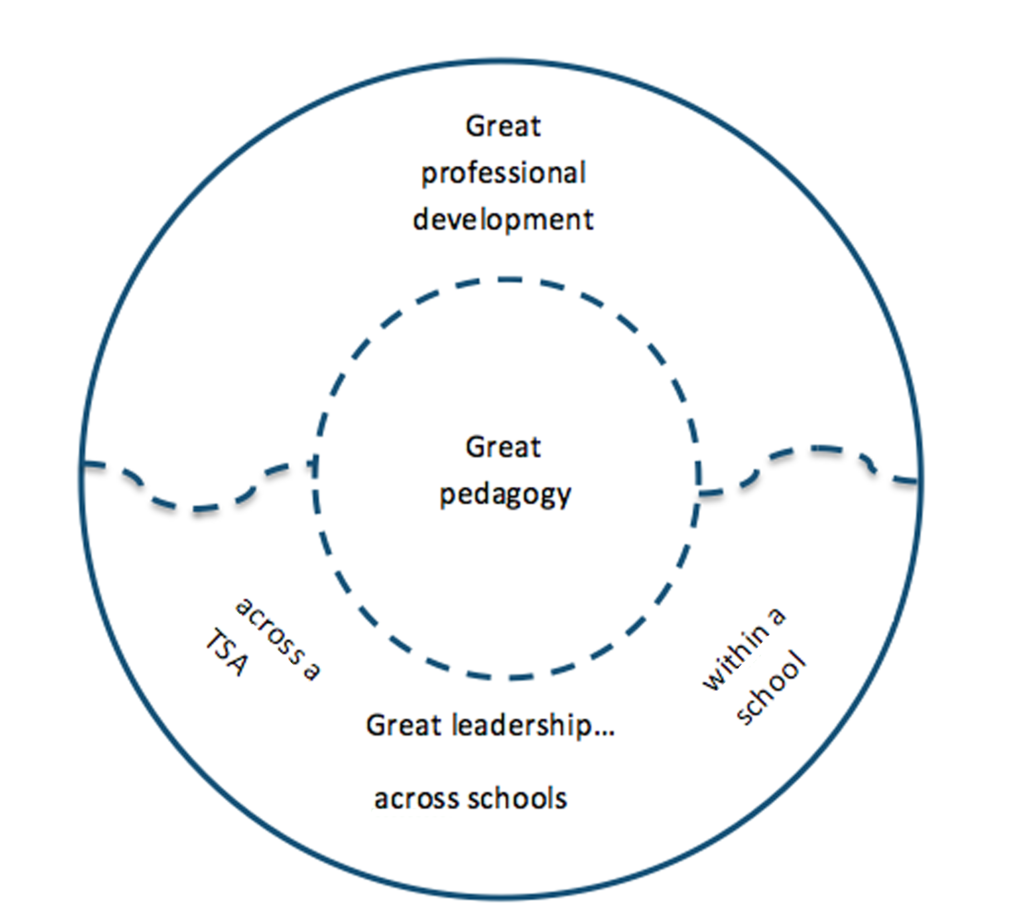 Although each participating teaching school alliance selected one of the three themes (there were a third of the alliances in each theme, looking across the different project titles and questions), it's often hard to determine which theme was the focus. This is because the three greats are closely connected.
Professional learning task
How are pedagogy, professional development and leadership connected in your school and in your school-to school-partnerships to enhance teaching and learning? Describe to a colleague an example which brings to life the relationships in Figure 1.
Pages 17-18 of the report (Stoll, 2015a) has more to say about the relationships.https://www.gov.uk/government/collections/research-and-development-network-school-based-research-on-pedagogy
As I looked across the findings about each of the three greats, which you can read in the other three HOW TO's, I spotted common patterns. In all, there were 10 transversal messages about ensuring great pedagogy and the professional development and leadership to develop and embed it within and across alliances. In other words, these messages applied equally whether we're talking about what teachers do with their pupils, how to think about professional learning, or when considering the nature of leadership to enhance teaching and learning. In brief they are:
1. Be clear about the difference you want to make
2. Engage interest and commitment – involve others and distribute leadership
3. Talk about learning to build trusting relationships
4. Embrace and persist with challenge
5. Support peers' learning and growth
6. Be flexible and adaptable
7. Emphasise development over judgement
8. Take and make time
9. Draw on external expertise – don't go it alone
10. Work towards cultural change and sustainability
Professional learning task
Read pages 18-21 of the report. Think about how these messages apply in your own situation. Where are your strengths? How did they get to be that way? Is there any difference between the three greats e.g. are you clearer about the difference you want to make with pupils' learning than you are when you think about teachers' professional development or leadership? What are the areas that need development?
Project evidence doesn't only support prior research findings (for details of the prior research, see the project reports). It complements, enriches and contextualises these findings as practitioners engage with and co-construct meaningful interventions which they then test out and find out what is successful in their own contexts. This is what is most exciting and potentially powerful about collaborative enquiry.
Designing collaborative enquiry that will make a difference to teaching and learning
Learning from this two-and-a-half year project has been rich, with many implications for practice, policy and research partners. Here are some elements of collaborative enquiry which is focused on making a difference to teaching and learning.
Enquiry and innovation
Collaborative enquiry frameworks – there isn't only one way to design collaborative enquiry within and across schools. Common elements that lead to successful outcomes, however, include repeated cycles of enquiry and innovation or intervention, with regular opportunities for reflection with peers and facilitators on progress, successes and challenges. This reflection leads to necessary refinements, enhancements and addition of new elements to increase chances of success.
Forms of collaboration and involvement – leading collaborative enquiry across schools requires decisions about how project collaboration will work. The forms the alliance project took ranged from projects which were totally co-created, through ones with a common theme across all schools but individual areas of focus, to more discrete projects with elements of collaboration. Decisions about the exact form of collaboration are likely to depend on school and partnership needs, the partnership's stage of development, relationships, and how leadership is distributed or delegated. All need careful consideration. Also, bear in mind that teachers are more likely to be committed if they involved at an early stage in decisions, help to construct the projects, and take the lead as they are ready.
Research, other evidence and tools
Bridging practitioner enquiry and academic research – connecting practitioner enquiry with what is known from academic research about your project's focus and any overall partnership focus helps augment understanding, provides helpful leads and can provide insights that led to creative interventions.
Other evidence and tools – collaborative enquiry is enriched by drawing on other evidence about successful interventions and tools that aid decision making, monitoring of progress and reflection on learning. These can help to deepen thinking and colleagues' ability to articulate reasons for successes and challenges.
External support
External facilitation and support – this is valuable in helping to provide structure and challenge, as well as offering additional capacity and access to new knowledge. HEIs and other researchers can provide guidance on how to maintain rigour of enquiry, enable access to relevant research material and provide advice on ethical issues.
Peer-to-peer challenge, support and learning
Deep networking – critical friendship and challenge is essential to successful collaborative enquiry. Links between peers in different schools and, even, across partnerships, sharpens thinking, provides further options and can help create the connections regionally and nationally that are more likely to promote system-wide change.
Leadership
Internal project leadership – collaborative enquiry benefits from strong internal leadership and facilitation. Taking this to a partnership level requires these leaders to use skills differently to develop trusting, collegial relationships, engage partner schools, keep them on board, maintain momentum, navigate difficult territory, and manage risks.
Headteacher and partnership leadership – leadership commitment and support at partnership level and among headteachers of all participating schools is critical, sponsoring teacher participation and providing practical resources, including time. Distributing leadership to senior and middle leaders across participating schools and teachers involved is a way of ensuring commitment. It also creates leadership capacity and provides a safeguard if you need to make changes in internal project leadership.
Impact
Four levels of impact – Well focused, led, facilitated and supported collaborative R&D across alliances can have a positive impact on people at all levels of an alliance. Most important, well-targeted projects make a positive difference to pupils' learning experiences, academic progress and other outcomes, including their orientation to learning and sense of wellbeing. Collaborative R&D also has a range of benefits for participating teachers, including enhanced teaching practice, greater reflection, new patterns of thinking, higher expectations, increased motivation and enjoyment of collaboration, with greater openness towards colleagues. Schools benefit from a move to more powerful forms of professional learning, more learning-oriented and enquiry-hungry cultures, and an increase in leadership capacity. And alliances of partnerships reap the benefits of more trusting relationships and openness to sharing and critiquing practice.
Impact challenges – tracking and determining impact is challenging. Ensuring rigour, making sure to collect a baseline picture and getting the right balance of assessment and evaluation methods are among the issues faced. Not going beyond what the data has to say is another. It's important to be careful about attributing success to one intervention or project when it's only one of many concurrent activities. Its impact needs to be disentangled from the multiplicity of initiatives that are part of school life.
Support for impact evaluation – collaborative enquirers need the necessary support to evaluate their own projects. The diversity of these projects, and their orientation towards innovation, requires a creative, flexible and contextualised, as well as rigorous, approach.
Mobilisation and sustainability
Sharing outcomes and learning – the alliances are using a range of strategies to share their outcomes and learning with colleagues within their schools, across their alliances and more widely. Many of these approaches are likely to raise awareness, but it is unclear to what extent other colleagues will be sufficiently engaged to 'jump on board' and whether the knowledge that is generated will have a wider impact. A rich body of knowledge has been developed, along with excellent practice that demonstrates impact, and yet it isn't always easy or guaranteed that this will be used elsewhere. Writing about project experiences, findings, impact and learning can also be a challenge and requires support and guidance.
Using professional learning strategies to engage others – Some teaching school alliances show a strong learning orientation in their approach to mobilising their new knowledge. This applies especially to those which have used a form of collaborative professional development or development of enquiry skills within or as the focus for their projects, taking this forward as a mechanism to engage more colleagues across their alliance. Using former project participants as leaders of project extensions is a useful strategy as is building project processes and development techniques into several schools' and alliances repertoire so they can be adapted for use in other situations.
Going for depth or breadth – Smaller, more narrowly focused projects may lead to greater depth and practice change but may be harder to replicate and transfer with other teachers. Larger projects with a focus on culture change – e.g. research, enquiry or learning culture – may touch more schools but may not have a quick impact on pupils' learning and progress. Going for both is ideal, if feasible.
Developing research skills – collaborative R&D across schools requires a range of practitioner research skills. Leading these kinds of projects is considerably easier if partnerships already have a strategic emphasis on enquiry and research, and development of these skills is part of the partnership's professional development strategy. Lack of research capacity and skills are significant barriers to sustainability.
The importance of time – an element of the project's success has been the provision of time for participation and reflection on learning. Alliances received funding for their projects. Lack of funding can be a challenge, although some schools find create ways to connect budgets for different initiatives.
Coping with obstacles and managing risks – top down accountability systems can be an obstacle to sustaining collaborative enquiry. Being fearful of engaging in or leading R&D is a de-motivator. Destabilising risks needs managing but may also need rethinking. The project leader concluded that there's no room for egos, empire building or an 'us and them' mentality in a self-improving system that promotes collaborative R&D across schools.
Collaborative R&D across a self-improving school system
Looking at these findings from the teaching schools R&D network national research themes project, a number of elements seem to be fundamental to enhance teaching and learning through enquiry-focused collaborative R&D across a self-improving school system, as England's policies have promoted (see figure 2).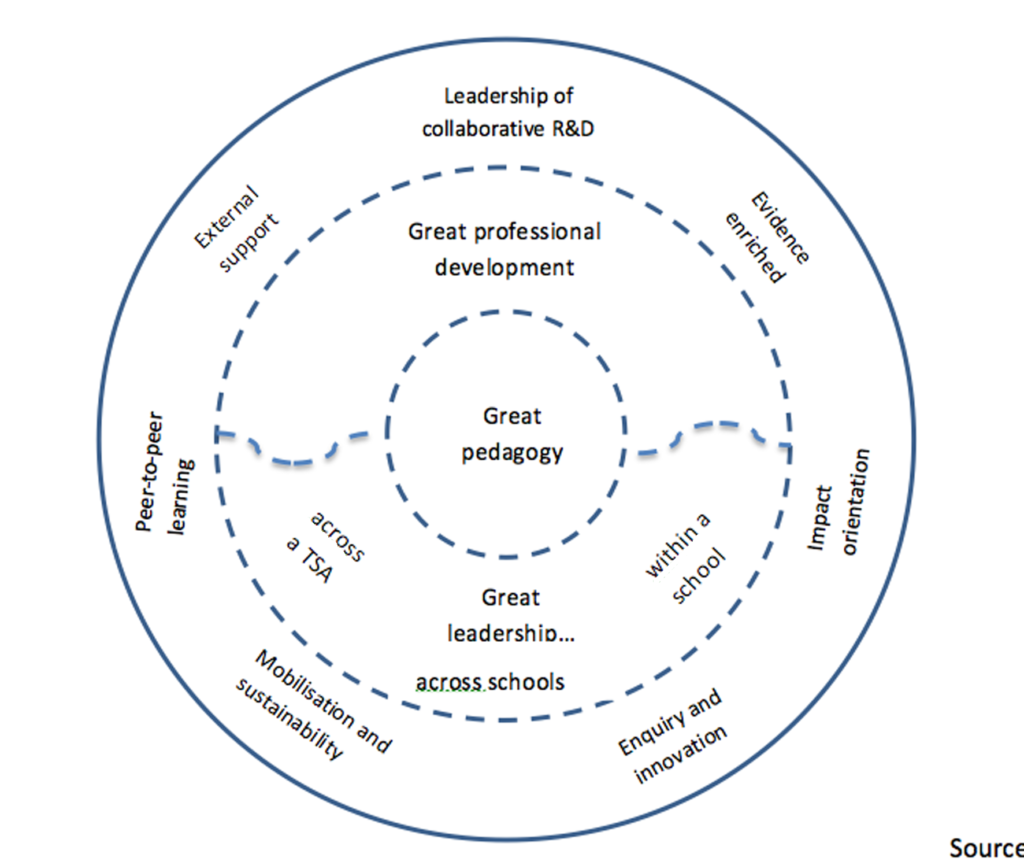 Professional learning task
What examples of collaborative enquiry have you got in your context? How do they compare with the elements described above?
Further questions arising out of these points can be found on pages 65-67 of the report (Stoll, 2015a).
Final questions for reflective dialogue with colleagues
What has this HOW TO added to your understanding about making a difference through collaborative enquiry? What resonates and what challenges your thinking? How might you take this knowledge forward in your own situation?
Louise Stoll is Professor at the London Centre for Leadership in Learning, UCL Institute of Education
References
Butler, D., Schnellert, L. and MacNeil, K. (2015) Collaborative inquiry and distributed agency in educational change: A case study of a multi-level community of inquiry, Journal of Educational Change, 16 (1): 1-26. ■ Jackson, D. and Street, H. (2005) Collaborative enquiry: why bother? In H. Street and J. Temperley (eds) Improving Schools Through Collaborative Enquiry. London: Continuum. ■ Mourshed, M., Chijioe, C. and Barber, M. (2010) How the World's Most Improved School Systems Keep Getting Better. London: McKinsey & Company. ■ Nelson, R., Spence-Thomas, K. and Taylor, C. (2015a) What makes great pedagogy and great professional development: final report. Nottingham, NCTL. ■Nelson, R., Spence-Thomas, K. and Taylor, C. (2015b) What makes great pedagogy: research case studies. Nottingham, NCTL. ■ Nelson, R., Spence-Thomas, K. and Taylor, C. (2015c) What makes great professional development: research case studies. Nottingham, NCTL. ■ OECD (2013) Fostering learning communities among teachers. Teaching in Focus, 04 (June). Paris: OECD. ■ Rea, S., Sandals, L, Parish, N., Hill, R. and Gu, Q. (2015a) Leadership of great pedagogy in teaching school alliances: final report. Nottingham, NCTL. ■ Rea, S., Sandals, L, Parish, N., Hill, R. and Gu, Q. (2015b) Leadership of great pedagogy in teaching school alliances: research case studies. Nottingham, NCTL. ■ Stoll, L. (2015) Three greats for a self-improving school system – pedagogy, professional development and leadership: executive summary: Teaching schools R&D network national themes project 2012-14. Nottingham: NCTL. ■ Stoll, L. (2015) Three greats for a self-improving school system – pedagogy, professional development and leadership: Teaching schools R&D network national themes project 2012-14. Nottingham: NCTL.
What makes great pedagogy and great professional development: final report. Nelson, Spence -Thomas and Taylor. IOE, 2015
What makes great professional development: research case studies. Nelson, Spence -Thomas and Taylor. IOE, 2015
What makes great pedagogy: research case studies. Nelson, Spence -Thomas and Taylor. IOE, 2015
Leadership of great pedagogy in teaching school alliances: final report. Rea, Sandals, Parish. Isos partnership. 2015
Three greats for a self-improving system: pedagogy, professional development and leadership. (Full Report and Exec Summary) Stoll, L. 2015
Approaches to research and development for 'great pedagogy' and 'great CPD' in teaching school alliances. Research Report. Maxwell, Greany, Aspinwall, Handscomb, Seleznyov and Simkins. 2015
https://www.gov.uk/government/collections/research-and-development-network-school-based-research-on-pedagogy