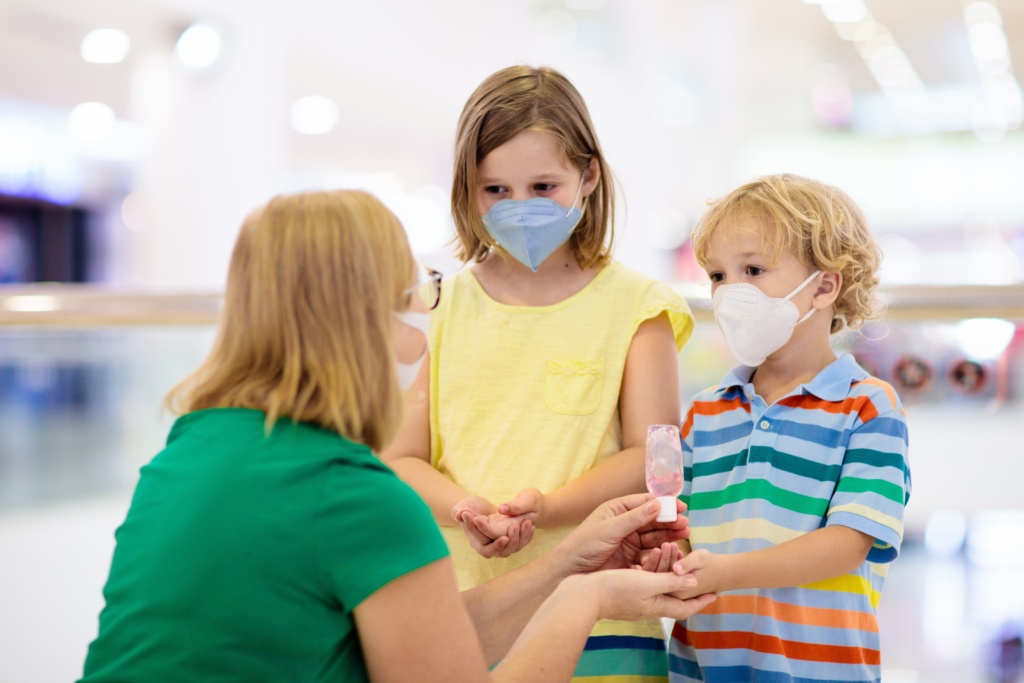 A lot of this 'thinking' about lifting the lockdown in our schools is being informed by how our European neighbours have responded to the school dimension of the crisis. The big problem is, however, that no two countries are doing it the same way!
Do we prioritize the opening of primary schools as in Denmark, Finland or Sweden (where they never shut) based on the unproven theory that young children are less affected by the killer COVID19 virus and may not be important vectors in its transmission?
Or do we risk prioritising Year 10 and Year 12 secondary pupils on the basis that, as obedient and rule observing teenagers, they will respect distancing and hygiene instructions to stay safe and reduce infection to others?
The big divide
This is the big divide across Europe; send the younger children back first, or the older children needing to sit important exams before all others. At the heart of this divide is an argument about the science of disease's contagiousness via young children.
Countries such as Italy and Spain, whose tragically high COVID19 infection and death rates are likely to be overtaken by the UK, have not hesitated to declare that schools will not reopen for all children until the new academic year in September.
Our counterparts in Europe have already taken tough decisions on school lockdown exit strategies. (See the table below which Teachingtimes.com will keep updated). Where countries have not already opened schools, timetables and detailed plans are in place for the return of hundreds of thousands of children to school and face to face lessons before the end of the summer terms. It has not been easy.
In many countries, such as , Austria, Greece, Germany, Portugal, Luxembourg, where COVID19 has not hit as hard as in the UK, assessments which select pupils and students for secondary and tertiary education, are key drivers in decisions to prioritize the return of certain secondary and last year primary classes.
Luxembourg admired
Luxembourg established a plan to reopen schools which has been admired and to some extent emulated by Belgium and Austria.
Claude Meisch, Luxembourg Minister of Education explained that schools would open progressively during the month of May. First, final year secondary students whose 'maturity enabled them to respect the limits on interpersonal contact' would return from 4th May.
They would be followed on 11th May by all the other secondary and F.E. Classes and on 25th May by primary, nursery schools and kindergarten/crèches. Importantly, special schools and specialist units for the most vulnerable children have been open since 20th April.
Claude Meisch elaborated the roll out for these exam classes:
"One week of lessons, one week of revision."
"In terms of method, the government has opted for a back-to-school sandwich course. Concretely, each class will be divided into two groups, both in basic and secondary education and in vocational training. Each group will have a week of lessons and learning in school or high school, followed by a week of home study or in a reception structure. The teacher will hold the same course for two weeks in a row."
To protect students and staff, the Luxembourg Education Minister listed what safety measures needed to be put into place.
Physical separation
"Physical separation measures to be respected by all. A series of physical separation measures must be put in place and respected in the establishments.
Especially :
social distancing, which will be facilitated in schools and in school transport by the alternate teaching group system;
wearing a device to cover the nose and mouth, which will be authorised in class and compulsory in transport. The ministry will distribute 2 devices to each student and each teacher;
the provision of disinfectant;
students to stay in class groups so that they do not intermingle;
the closing of canteens to avoid contact between pupils from different groups;
supervised student traffic flow in the corridors;
the organisation of alternating breaks and lesson change-overs;
the reduction of school hours, especially in primary school.
the distance rules will also be applied to secondary school leaving exams and to final integrated vocational training projects."
"Special recommendations will be developed for crèches and the early years of primary education, where young children may find it more difficult to adhere to physical separation rules."
"In music education, individual lessons will resume on May 11 and group lessons are postponed until further notice."
Despite a Petition attracting over 17000 signatures to force a parliamentary debate opposing the return to school, the Luxembourg Ministry of Education announced that 96% of final year secondary students returned to school on 4th May. Most of the 4% absentees were reported to be vulnerable students.
Problems In Germany
Germany has a population of over 80 million people living in 16 federal states (Bundesländer). These have similar autonomy over the governance of schools that Northern Ireland, Scotland and Wales have in the UK. Although the Federal Government under Angela Merkel has committed to ensuring that all children and older students experience a return to school in some form before the end of the summer term, It is not surprising that plans across sixteen different 'Bundesländer' vary enormously in the timing and in the detail.
However, what they all have in common, including Luxembourg, is that their upper secondary exam classes will be the first to return in order to prepare the German A Level equivalent exams called the Abitur.
At the 'Clara Zetkin' secondary school in Freiberg, a small market town near Dresden, classrooms were prepared to accommodate students carefully allowing for 2m distancing between each of them.
This required the rooms to be set up for small groups of maximum 9 students per classroom plus the teacher (see photo below). This was so that they could have, at staggered times, 14 days of teacher supported revision for their exams.
Exams
The 16 Federal German States are insisting that 350 000 final year Abitur (secondary school pre-university exam) students return to school to revise for and then sit the exams. In Hamburg, 153 000 people have signed a petition calling in vain for the mayor, Peter Tschentcher, to cancel the exams.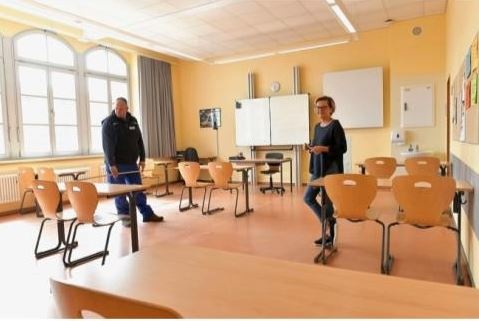 At the Samuel-Pudendorf Gymnasium (selective secondary school) in Flöha, the headteacher, Sylvia Noack, explained to the local press that even the smaller Abitur classes had to be halved because the classrooms could only safely fit 7-8 students if safe distancing between students was to be maintained. Classrooms have to be professionally cleaned and disinfected every day.
Vulnerable teachers
In Germany, there are many teachers over the age of 60. Since the over-sixties fall into the category of shielded workers, alongside colleagues living with medical conditions that put them at risk of serious complications from the Coronavirus, staff shortages are adding to the logistical difficulties of restarting schools.
As more and more pupils return to school, these logistical issues explain why ambitions are modest. The aim is to offer until September only part-time schooling with contact teaching in core subjects only.
The reopening of German schools for older students was justified in part, like in Luxembourg, by some wishful thinking that teenagers would respect the clear rules about social distancing. In Hessen, 23500 Abitur students have returned to school in the last weeks.
Frequent reports have circulated that, while Abitur exam candidates are carefully guided into exam rooms which ensure a physical distance of at least 1.5m from each other, they car -share on the way to school and way home, embrace before the exam to wish each other 'good luck' and then celebrate the end of their exams by hugging one another again.
Revising for and taking exams in different optional subjects necessitates students forever joining new groups. Working in static class or small group bubbles is impossible.
Janitorial staff in some German schools complain that school authorities have delivered bulk liquid soap and hand sanitiser without providing the necessary dispensers.
No dispensers
The same goes for giant rolls of single use paper towels. We know what happens to those in school toilets! While students are advised. like everyone else. to sneeze into their elbows and wipe their nose with a hand tissue that is then thrown away, German teachers reveal that many classrooms do not have sinks equipped with hot water and adequate soap.
As part of its global lockdown exit strategy, announced on 24th April 2020, Belgium sets out its trial plan for a return to school in startling detail. Schools are preparing to implement this plan from 15th May 2020 (the last day of total school lockdown).
Nursery/Kindergarten: lessons remain suspended.
Primary and/or secondary schools: resumption of school courses for up to 3 years of study per level of education (with a number of days per week to be determined). Classes are divided into small groups and classes at school or are divided into small groups and receive a mixed education (remote and present). By derogation from the proposed phase, the resumption can begin, in the form of a test, as early as May 15.
Priority is given to the graduating years, students with specific educational support needs (which can be invited individually by the school) and careers guidance.
Schools remain open for children whose parents work in the health care or other essential sectors and have no other childcare opportunities while they work .
Travel as part of education is considered essential travel.
General principles
The general principle is to minimize the risk of transmission in the school context by applying physical distance, hand hygiene and mouth masks.
Children or staff with clinical signs should remain at home, as well as children and staff from at-risk groups (these will be defined in due course). These children will need to receive distance education.
Face masks and equipment
At least students over the age of 12 and staff members must wear an oral mask or other nose/mouth protection (handmade or comfort masks, provided they are replaced in accordance with the guidelines) throughout the day. The use of FFP2 masks is not recommended.
Maintenance personnel and health workers must also wear gloves.
Hand hygiene
All students and staff must wash their hands (water and soap or hydro-alcoholic gel):
when entering the school,
entering the classroom (after recess),
after going to the toilet,
after coughing or sneezing,
after using a vending machine and
leaving school.
Belgium's big problem
Belgium, where distance learning is relatively underdeveloped, there is a massive concern that home learning, including e-learning, massively disadvantages vulnerable and socio-economically deprived children. This has been a major driver for a part-time and partial return to school as quickly as possible, even though the country has cancelled all public examinations, and even though it has the highest per capita death rate in the world.
The Belgian decision to reopen its state schools contrasts with the decision of the EU funded European Schools in Brussels whose 13000 pupils aged 4-18, mainly children of officials of the European institutions, will remain at home until September. This is partly due to the huge success of delivery e-learning via the Microsoft TEAMS platform; the access of all families to the internet, the cancellation of exams and, above all, the impossibility of assuring virus proof safety and social distancing in schools of 3000+ pupils.
The Netherlands is set on a course similar to one the world has seen operating in Denmark, Sweden, Norway and Finland, in prioritising the return of primary schools. A large section of the parents and teachers are angrily opposed to this. The Dutch aim to open mainstream and special primary schools for 100% of pupils spending 50% of their in-school time on physical education. Except for vulnerable children and children of essential workers, only half the school roll will be allowed in the school at any one time.
The children will remain in fixed cohorts, although adults will be required to maintain a distance of at least 1.5m from each other, this rule will not apply to the children. As in Belgium, detailed planning has been published in the Netherlands for the reopening of its primary schools on 11th May.
Impractical
However, a survey of 5,000 teachers by the professional association AOb said many of the ideas were impractical. 'Schools aren't designed for people to keep their distance and they see many practical problems such as the need to walk around the class, transportation for children in special education and hygiene measures for the youngest groups in primary school,' said the organisation.
'Teaching 30 four-year-olds to sneeze into their elbows and keep away from each other is Utopian, let alone asking the teacher sto keep their distance,' added Eugenie Stolk, chair of the AOb. Nearly two-thirds (63%) of primary school teachers said they were already having problems keeping to the 1.5 metre rule in classrooms where children of essential workers are being looked after in the daytime.'.
The English medium newspaper DutchNews.nl reports that a third of Dutch primary teachers believe it is too risky for primary school children to return to school en masse without clear evidence that young children are not vectors for COVID19 contagion.
On 30th April 2020 Unesco, Unicef and the World Food Programme (WFP) released their own guidelines for the "safe reopening of schools amidst ongoing closures affecting nearly 1.3 billion students worldwide." These guidelines simply sum up the dilemma facing the UK government: return to school and risk a resurgence of COVID19 infection or remain closed and risk the education and economic well-being of the most vulnerable in our societies.
"The best interests of children and overall public health considerations – based on an assessment of the associated benefits and risks to education, public health and socio-economic factors – must be central to national and local authorities' decisions to reopen schools", the guidelines say.
For more practical guidance England, Scotland, Wales and Northern Ireland would do better to look to their former EU partners for inspiration. There will be lots of lessons to learn despite our differences.