Cultivating Participation
It is the first day of media class at Delta Kelly Elementary School and 30 Year 4 students huddle around an over-sized rectangular table that is stacked with jumbo playing cards, brightly-coloured feathers, scalloped paper and an assortment of building materials. Almost everyone is talking. Some are laughing. Upon closer inspection, small groups seem to emerge. While two students look closely at a wooden block, still others dangle faux greenery and nod in agreement. "Give me a piece" one student calls, a directive met with a piece of clear tape from a neighbouring teammate. "Sanjay!" another voice rings out, "Over here!" It appears that no two students are doing exactly the same thing. Yet somehow, without strict directions, there is an industrious harmony. Students are participating together as a community of thinkers and learners.
Framing learning as a social endeavour from the first day of school sends the message that students are expected to be active participants in their own learning (Ritchhart, 2018). Moreover, intentionally designing opportunities for distributed student participation can promote access and equity (Clapp, 2017). Situating learners as members of a broader social system encourages self-differentiation. It also urges students to develop and share their own voices, reimagining and hacking pre-existing constructs of creativity. It is through these experiences that students begin to truly value the "unique talents, skills, and cultural perspectives they bring to the work of creative idea development" (Clapp, 2017, p. 7).
Building off of the work of Project Zero researchers, in this article I share documented observations of stories from my classroom practice – especially in the areas of Cultures of Thinking and Participatory Creativity.
Definitional Language
There are some key definitions that are necessary to provide clarity. The first is that of interactions and relationships (Ritchhart, 2015). Our interactions and relationships with others not only impact the collaborative nature of our classrooms, but also, and perhaps more surprisingly, the depth of student thinking (Richhart, 2015). Making meaningful personal connections, questioning, attending to patterns of discourse, pressing for student thinking and supporting student independence are some of the essential moves teachers can make to promote "interactions that support thinking and learning" (Ritchhart, 2015, pp. 218–225). Another key definition is participatory creativity (Clapp, 2017). As students engage with one another to perform a creative task, they enter a complex system of participatory navigation, with ideas at the centre. Documenting both the development of an emerging idea and our participation in that process situates creativity as a concept emerging from the collective engagement of various actors rather than a characteristic assigned to any one individual (Clapp, 2017). Within this article, I also use the language of 'collaboration', 'group work' and/or 'teamwork' to describe the actions of students as they engage with one another throughout the lesson. However, it should be noted that none of these terms are synonymous with participation as described through the lens of participatory creativity.
Contextual Landscape
Participants included students ranging from Years 2–5 at Delta Kelly Elementary School, a suburban public elementary school located in Oakland Township, Michigan. These teaching and learning experiences take place in the school media centre, a hybrid space including the school library, makerspace and technology lab. Approximately 400 students participated in these variegated learning experiences over the course of the first two weeks of the 2017–2018 school year.
Framing the Lesson
Students entered the media centre greeted by tables of eclectic postcards ranging from vintage retro travel images to pictures of animals. Each student was randomly assigned a postcard, then asked to make connections between that postcard and some aspect of their personal identity. After five minutes of quiet think time, students shared their initial explanations in small groups ranging from 3–5 students.
To frame the remainder of the learning experience, students watched a video depicting IDEO's General Manager, Tom Kelley, sharing his musings about artist and author Gordon MacKenzie and his book, Orbiting the Giant Hairball (Kelley, 2008). The heart of this clip highlights the shifting perceptions of personal identity over time, affirming that students should embrace their identities, rather than letting others impact their individual concepts of self. Students were then asked to ponder the question, What message was Tom Kelley trying to send? In a whole-group discussion, students generated ideas, including 'be yourself', 'don't be afraid to do what you love', and 'it's ok to be different'.
Using both the postcard and video discussion as inspiration, students made connections to norms for thinking and asserted that foster positive interactions and relationships and create opportunities for deeper thinking (Lusky & Rains, 2014; Ritchhart, 2015). These norms included:
We can always call a classmate if we are stumped to support our thinking
Our reasoning is more important than our actual answer
We can always change our minds based on evidence and reasoning
We can always connect or add on to someone else's idea (Lusky & Rains, 2014, para 2)
In a culminating performance of understanding, students worked with recycled materials in groups of 3–5 to create 3D sculptures representing a norm for thinking of their choice. Students integrated elements of each team member's postcard into their sculpture to ensure a symbolic representation of participation in the making process. At the end of class, students recorded a video interview explaining the making process and their final piece.
The lesson itself was broken into two class periods. In the latter class period, students reflected on their experiences from the previous meeting. As roles in the creative classroom areboth fluid and multifaceted, students examined their multiple angles of participation during group discussions (Clapp, 2017). Students recorded these reflections by means of an adapted Step Inside thinking routine (Ritchhart, Church, & Morrison, 2011). This thinking routine afforded students the opportunity to slow down and look closely at their own participation in the creative process (Clapp, Ross Ryan & Tishman, 2017). Students visualised the making experience, sketching and labelling the image they felt was most representative of their role(s) in the experience. Then, students documented what they noticed, thought, wondered and felt with support of sentence stems. Finally, students shared areas of strength, favourite parts, what they learned, and how they hoped to improve in future making endeavours.
Portraits of Student Participation
As the following cases illustrate, students shared perspectives and insights throughout the making process, ultimately resulting in opportunities to examine both student interactions and the development of their ideas.
The Frustrating Tyre Case, Year 5
The Frustrating Tyre Case represents a group of four Year 5 boys, who struggled to bring their ideas to fruition at first, but were later able to generate a final sculpture. Enthusiastic and ready to start building, this team quickly gathered materials to begin making. After forming a tree stump out of orange construction paper, this group ultimately chose to bend a flexible concrete support into a tyre, a symbolic representation of a car. The material itself was bendable, but because it had more rigidity than say, a rubber band, the group found it challenging to make the material stay in a circle. Because of this unique challenge, the group spent most of their time trying to find a way to make the circular structure stay put as is illustrated in their interview transcript:
Student 1: Well, we made… a stump that's in here (pointing inside a rolled up strip of construction paper). We put a leaf on it. This is a dog's tongue (laughs), a turtle shell, and then we put a tyre on the side for the car. And then we just added this for colour (touches toothpick with circular layers of felt fabric stacked on top like a vegetable garnish).
Instructor: Awesome! So which norm did this represent?
Student 1: Uhh, it represented the first one.
Instructor: If you're stumped you can always call a classmate? Is that why you guys made a stump?
Student 3: Yeah.
Instructor: So how did your process work? Like, how was this experience?
Students 2 & 3: It was… it was fun. Yeah.
Student 4: It was frustrating.
Student 1: Yeah, definitely this (takes 'tyre' off of the stump sculpture and places it on the table with a tap).
Instructor: What made you feel frustrated?
Student 4: The hot glue didn't hold. The hot glue.
Student 3: And then it popped off and we had to tape it.
Instructor: Right. So you had limited time, the tools weren't necessarily working how you wanted, you knew that you were crunched for time…
Student 2: Yeah.
Instructor: But you also maybe had a little fun in the process.
Students: Yeah.
Instructor: Do you think you worked together well as a group? Did everybody have something to do or was it kind of like you weren't even sure how to do that yet?
Student 4: At the beginning, it was chaos. Then it slowly got better.
Instructor: So next time, do you think you might plan first? Is that what I'm hearing?
Student 4: Yeah.
Instructor: Okay, cool.
While this group eventually created a final piece to meet the challenge criteria, the time spent navigating the making process without a clearly articulated plan from the start impacted their ability to build detailed explanations and integrate their postcards conceptually. This sentiment was reflected in a summary of the group's personal reflections (see Table 1).
The Overflowing Teacup Case, Year 4
In contrast, the Overflowing Teacup group of Year 4 girls reported communicating effectively from the start, with each team member generating meaningful connections throughout the process. To begin the challenge, the team chose to represent that they could always add on to someone else's idea with their sculpture. Then, each team member spent time looking closely at their postcard, imagining what else their image could represent. After spending time sharing their thinking with one another, they decided on the concept of an overflowing teacup to meld the individual components together as was evidenced in their interview transcript:
Student 1: Ok, so, this (pointing to a ribbed yellow circle) is supposed to be a teacup because in this picture (Derain's The Pool of London, 1908), we pretended the sea was a big teacup and the boat was a spoon, like a teaspoon, and it's super colourful on the sides and stuff so we added feathers and stuff and we thought of the idea of an overflowing teacup.
Student 2: And then… (pointing to a fringed brown rectangle with white squares underneath) we have a moustache here and it has a cavity because I thought that the rocks were teeth and then the chipmunk was a cavity.
Student 1: Yeah. And the gate was the opening of the mouth, and the moustache was this part right here (pointing to photograph of cave stalactites).
Student 3: Yeah. Like the cave, with all the rocks sticking down so it looks like a moustache.
Student 1: And we added a tooth under here so it looks like a mouth.
Student 2: And we had pretty good teamwork.
Student 3: Yeah.
Student 1: Yeah.
The group's teamwork was further illustrated in a summary of the group's personal reflections (see Table 2).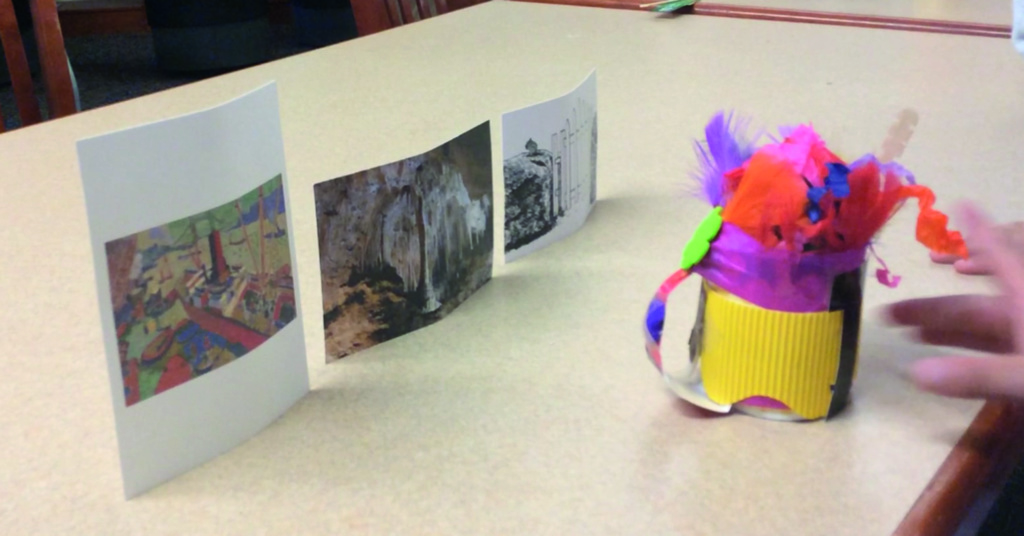 Discussion/Findings
How did the students interact with one another? And how did these interactions influence the development of their ideas?Although posed with the same initial challenge, both groups seemed to approach the task a bit differently. While one group opted to gather materials right away, the other conducted a team meeting of sorts, generating an overarching concept. This initial planning step seemed crucial, both solidifying the group as a team and creating an opportunity for each member to determine where their unique voice might fit into the larger group system.
This notion seems to be supported by student documentation. The reflective similes generated by The Overflowing Teacup group seem to suggest that each team member self-identified complementary roles like that of thinker, machine and bus. Indeed, the roles identified by team members included: Brainstormer, Decorator/Maker and Supply Collector. While one group member focused on generating ideas, another member put the pieces together using materials gathered by a third member of the group. Perhaps this set of actions can be described as collaborative efficiency, the notion that the group is fully utilising each member to their full potential to achieve the best possible result. The result? A true integration of ideas in a novel way. Group explanations reflected a deeper level of complexity, incorporating the use of vivid imagery and metaphor. Rather than a discrete set of images or objects, each element of their design linked to the others.
This is in contrast to the reflections of the Frustrating Tyre Case, some of whom described the experience as 'fun' but 'frustrating'. One possible explanation might be this group's collective struggle to efficiently utilise the unique talents/skills of each team member, a counter-example of collaborative efficiency. This was evidenced in the similes generated as part of the reflective process. There seemed to be a lack of harmony depicted. Although all students described physically moving, and in some cases 'doing everything for the group', the group also recognised that they "need[ed] to be more careful of the time [they] have". A similar trend also surfaced in the group's video interview. Rather than capitalising on the potential for all four members of the team to address the 'tyre problem' through diverse approaches simultaneously, the team instead all focused their energy on the same materials, looking to solve the problem in the same way. Because the group spent their time on the physical construction of their concept, that left little time to think about merging each object on their sculpture together beyond placing each discrete object next to one another.
While not always cognisant of the overarching system, students were able to consistently relay their feelings about the process with detailed explanations, regardless of whether they deemed the collaboration successful or not. It seemed that the groups who reported distributed interactions felt more successful about their final sculptures and their ability to explain their thinking. Interestingly, these teams also seemed to move beyond literal interpretations of their postcards, generating integrated sculptures, and building more abstract explanations.
Cementing the feelings of accomplishment
A group of Year 4 students examine their finished sculpture, a mass of bold streamers and feathers spill over the sides of a ribbed yellow border, a symbol of overwhelming pride in their collective accomplishment. Each member beams as they meticulously describe every detail, laughing together at the notion of a chipmunk cavity in a metaphorical smile. In that small moment, it is clear. They value themselves. And they value each other. Each student has maximally contributed their own voice and unique talents to create a shared masterpiece. That is the power of collaborative efficiency.
What if we, as educators, created more opportunities for students to participate in the creative process? Might we encourage students to better understand themselves and each other?
Julie Rains, Ed.S. is an Instructor for Teaching and Learning in the Maker-Centered Classroom Online Course, PZ-HGSE (Project Zero-Harvard Graduate School of Education) and Information Literacy Specialist at Delta Kelly Elementary School in Rochester, Michigan.
References
Clapp, E. P., Ross, J., Ryan, J. O., & Tishman, S. (2017). Maker-centered learning: Empowering young people to shape their worlds. San Francisco, CA: Jossey-Bass.
Clapp, E. P. (2017). Participatory creativity: Introducing access and equity to the creative classroom. New York: Routledge.
Derain, A. (Artist). (1906). The Pool of London. [Painting]. Paris, France; Musee des Beaux Arts de la ville de Paris.
Kelley, T. (2008, November 12). Orbiting the giant hairball. In Stanford eCorner. Retrieved from http://ecorner.stanford.edu/videos/2098/Orbiting-the-Giant-Hairball
Lusky, E. & Rains, J. (2014). Enbrighten teacher center resources. Retrieved from https://enbrighteneducation.weebly.com/resources.html
Ritchhart, R. (2015). Creating cultures of thinking. San Francisco, CA: Jossey-Bass.
Ritchhart, R. (2018, July): 10 Things to say to your students everyday. Poster session presented at Project Zero Classroom: Harvard Graduate School of Education, Cambridge, Massachusetts.
Ritchhart, R., Church, M., & Morrison, K. (2011). Making thinking visible. Hoboken, NJ: Jossey-Bass.