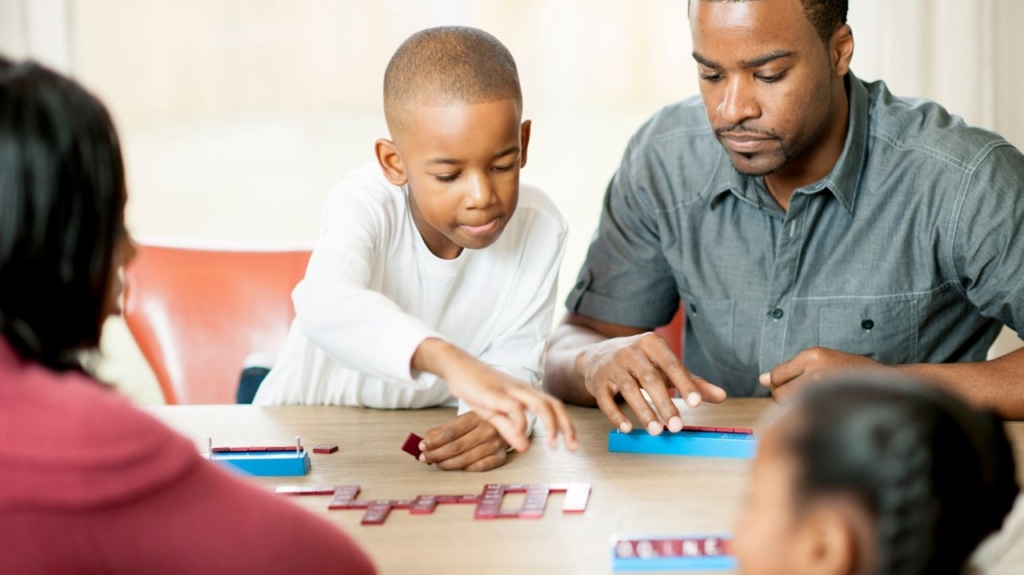 My job allows me the opportunity to support and help develop schools' strategies and aims. Increasingly, I have been asked three common questions which, taken together, form the inspiration for the Games Workshop that I have since designed and introduced to schools, delivering them to parents/carers and teachers alike:
How can we expand the learning for children beyond the classroom?
How can we help parents/carers help with their children's learning more?
And how can we, as a school, engage with 'hard-to-reach' parents?
All three of these questions share the same strategic aim, which is to improve children's learning. My response was to tackle all three, head-on. The outcome was to design and create a 'Games Workshop'.
So, why games? Firstly, I began to think about activities which would support the learning that the majority of these children needed, but being careful not to present it as MORE homework for the child/parents to tackle and not generating MORE marking for teachers. In the majority of cases, the skills and knowledge the child needs to build on/practice, are basic skills; either in numeracy or in English. I therefore began to focus on activities that we could share with parents, which would easily support the development and practice of these basic skills.
Secondly, I have drawn a lot from my life experiences. I have always used games to support my young son's learning and to engage him in activities that he was previously reluctant to . Reflecting on this, I wondered whether this could be a vehicle to help other parents support their children with learning. After all, children love playing games. But not all games are equal. Reflecting upon my own experience as a child, I recall certain games that had a clear literacy bent were not fun, whereas strategy/numeracy games were extremely enjoyable. Bearing that in mind, I began to unpick what aspects of learning that games supported and made a list. Here are some examples:
'Guess Who' is brilliant for helping to model the formulation of appropriate questions.
In 'Connect 4', players need to be strategic in where they place their pieces.
With 'Snakes & Ladders', mathematical knowledge can be developed.
'Monopoly' is a great game to support strategic thinking, counting, reading and develop negotiation and communication skills.
'Cludo' develops strategic thought, inference and deduction, maths (dice) and most importantly, I think, questioning skills.
'Don't Scramble the Egg' supports memory, recall, categorisation and building vocabulary.
All these games, and more, require different skills – personal, technical and creative – that children need for learning in all aspects of their lives. Having chosen the use of games as a learning strategy, I then had to decide on how best to use them to address the three core questions, mentioned above. Two factors underpinned my approach. Firstly, using the principle of 'good learning' of "study, study, practice, practice, practice." (Cole Andrew, AfA), I viewed games as the source of the practice opportunities. Secondly, as a parent who often struggles to find quality learning time with my child, I saw games as a method to allow a child and parent/carer to get some regular learning time together, but I also understood that the use of games needs to fits both their lifestyles.
To begin with, I created a bank of ideas to share with parents. Typically, these ideas were put into three different categories:
The journey home
On the way to and from the home – either in the car or walking, or in more normal times via public transport – there is normally a 5, 10 or 20-minute opportunity to practice a piece of learning that is fun and engaging for the child. A child could, for example, be encouraged to shout out number bonds to 10 or the seven-times tables while skipping, playing I-Spy or Hopscotch. To extend this, I suggest that once the child is secure with the pattern they then shout out every third one. Another extension could be to recite the number pattern backwards.
Phonetically, the journey home is littered with opportunities, in the form of street signs, number plates, shop fronts to name a few. The sequence of progression/extension could be looking for letters at the beginning of words, at the end then in the middle linking it with encouragement of sentence construction e.g. "think of a word with this sound, now put it in a sentence." Giving the parents the knowledge of how to extend these practice opportunities by small steps helps boost their confidence.
While in a shop, a parent/carer can encourage their child to be involved in a managed way. For example, they pick an item – a litre of milk, a tin of beans, some bread – and the parent encourages their child to count: "If this is 7p, and we need 3 of these, how much will that be in our basket?" The numbers chosen, of course, are the ones that the school and parent/carer want the child to practice.
By the time the parent has reached home, they can say to themselves, "Well done me. I've just helped my child practice a skill," with no pressure and/or guilt.
Home activities
Cooking presents a fantastic opportunity, for a parent/carer to encourage their child to read, following instructions, measure and calculate and, all the while, spending quality time with their child.
When setting the table for dinner, a parent/carer can use the opportunity to ask questions: "How many people are coming for tea today? How many forks will we need… knives…spoons"? "So, we have 3 forks and 3 knives. How many is that altogether? Can you show me in a number sentence like you do in school?" And, of course, the parent can also use the chance to credit their child: "You are a good teacher. Thank you."
Playing games together
I focused on using everyday games that I believed they would be most likely to have in their home, which could be used to support learning and most importantly develop opportunities for discussion and communication. It is important to inform parents that if they start a game like monopoly, which is far too long for both young children and parents, they do not have to play to the end. Instead, game playing has to be manageable and fit into the parent/child lifestyles.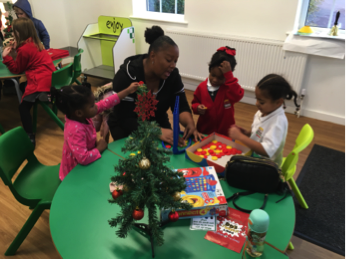 Based upon strategies that are used in school to engage children in learning, the one that sprang to mind that I think best fits this situation, is 'little and often'. For example, with long-playing games, I share the following strategy with parents: Firstly, agree a timetable of when they, and their child, have 40 minutes free in the week to sit down and play. They should then put the timetable somewhere visible, such as on the fridge, so that everybody is reminded when play time is; secondly, when the agreed time comes to play, I encourage the parent to put a timer on, for approximately 15/20 minutes and then begin. If, when the timer goes off, parent and child are still enjoying themselves, the child might ask if s/he can have 5 more minutes. If everyone agrees, then put the timer back on and play for 5 more minutes. Another useful tip I share, is the use of an empty box. When the final timer goes off, put the box over the board game and push it underneath a table or seat, so that the child knows the game can be continued later. Even though the game has not reached a conclusion the most important thing to remember is that everyone has spent quality time together having fun but also talking – about the game yes, but also about other things.
Adapt A Game
We can also adapt games to support a piece of learning we want a child to practice, through incentivising. Take, for example, 'Snakes and Ladders': using one or two 'Sticky Notes', put a word from the child's spelling list for that week, on a square without a snake or a ladder. If/when the child lands on this square, they are offered three attempts to spell the word correctly, with an incentive to try and do the task. If spelt correctly on the first attempt, the child gets to move forward five extra jumps. If they get it correct on the second attempt, they move three extra jumps and, on the third attempt, they move forward one space if correct. A different coloured sticky note can be used for mathematical calculations. This strategy can be used in many different games e.g 'Connect 4' could have several sticky dots of different colours, that equate to a spelling or a maths challenge. If they get the spelling right/calculation correct they can put 3, 2 or 1 extra disc into the frame, thus building in a reason for our reluctant learner to want to try to practice these skills. The 'Don't Scramble the Egg' game can be played with a favourite toy (Mr Potato Head, one of my personal favourites, works well), a timer and some sticky notes to write the categories you want the child to practice.
With ideas, games and incentives in place, one big problem still remained: how to get parents to come into, and engage with, the school? I thought about how I would feel if my time at school didn't work for me or wasn't a pleasant experience, or if teachers are always telling me my child's behaviour is not good and so on. If every time a parent comes into school it's a negative experience, why would they come? I had to find a way to approach these 'hard-to-reach' parents and I recalled something that my husband told me he tells his film students when they are making a film i.e.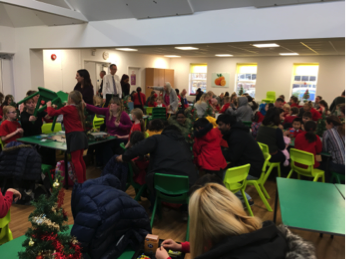 "You must think about your audience and how they will view what you are doing or planning to do." And I took that mantra and applied it in this situation. My immediate thought was that we need to present the invitation in a different way. Instead of sending out a letter on school-headed paper, I send a flyer out to parents, which explains the fun and the learning to be gained from playing games or activities. The key was for the invitation not to look like an official school letter, very often associated with poor behaviour or attendance.
The games workshop is one hour long. In some schools the workshop is delivered just to the parents. In others, it is presented to the parents for the first 30/40 minutes or so, to discuss the games and strategies, and for the last 20 to 30 minutes, their children are invited in and they play together.
Another part of my games strategy, was to devise the concept of a 'Freebies' or 'Goodie Bag'. Bearing costs in mind, I suggest a selection of items, which schools are most likely to have in their store cupboard, to go into a goodie bag and parents/carers receive these on leaving a games workshop. These items can include, for example, a pack of playing cards, dice, several packs of different coloured sticky notes and a colour photocopied/laminated board game, like Snakes and Ladders, as a starting point for the parents.
Schools who had previously commented that they just could not get parents to come to any of their training sessions, then sent out the flyer. The response was noticeably different. Those same schools often state that their games workshop 'has been the best attended workshop we have run'. One school, for example, went from having no parents attending workshops to one hundred and thirty. Some schools have even taken this format and are using it to run other types of sessions for parents. Another school created a booklet of ideas to give to parents.
In essence, the aim of the games Workshop is to empower parents to feel confident and to believe that they really do already have the skills to help their child learn. To summarise, its aims are:
To help remove the FEAR of school – When education did not work for the parents this workshop helps them understand they can build opportunities to support their children with their learning, in a fun way, in a safe welcoming environment.
To introduce/understand the value of playing to support learning – To reintroduce or introduce the skills and educational knowledge that is practiced when playing games.
To build self-confidence – To help children and parents understand that winning and losing is part of life. To build resilience and develop the ability to deal with losing.
To introduce speaking and listening/communication opportunities in a busy life – To support communication skills through turn taking, developing question formation skills and to support giving complete answers.
De-mystifying education – To challenge the statement "I can't help because I can't do the maths the way it's done in school today.
What the parents say:
"Great session. This has given me some great ideas like the scramble the Egg and will try some cooking books with my son." – Yr 3

"Very helpful tips on how to organize my time with my daughter. Thank you for this time." – Yr 1

"A wake-up call. Being a busy, single mum. Very good. Love the post-it idea for Maths." Yr 4

"I have learnt a great deal to de-stress, have fun and learn with my kids." Yr 3
Quote from Camrose Primary school Champion
We are in the second year of the Achievement for All programme. One thing that came out of the initial analysis was the ability to support children with communication difficulties more effectively in the classroom. We also felt that the parents would benefit from additional input about supporting the development of their child's communication skills through games.
Paddy, our AfA coach, ran a Games Workshop for parents with their children. She went through the benefits of using games for all sorts of different reasons and making these interactions fun whilst supporting communication development and learning. The workshop was really well received with a great deal of positive feedback about how it had made the parents think in a way they hadn't before. Paddy also ran an INSET session for our staff about the use of games. Again this was well received and allowed our teachers and teaching assistants the time to reflect on how the games can be used more effectively to stimulate conversation and develop children's communication skills.
Quote from Holwell Primary School
At our school we have 33% pupil premium and parental engagement is a concern. Working together as the educators, with the parents and carers, is vital to ensure the best possible provision for the children. When all stakeholders are involved in the education, the outcomes for the young people are improved. We have previously had some poor engagement from parents, with teacher meetings missed, Family support worker meetings missed and events at school not attended well – especially higher up the school. We have worked hard at varying the times of such events to meet the needs of parents who work, as well as those who don't, giving plenty of notice so that plans could be made. We still felt that parental engagement was an issue though.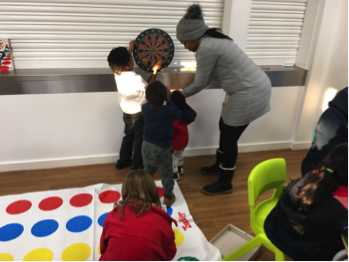 Using our pupil premium funding and sports funding, we have bought into the Achievement for All programme, making one of our key foci – Parental Engagement. Our nominated coach (Paddy) delivered a workshop to staff and then to parents. This was attended by sixty-one parents – a fantastic turnout for our school. Paddy talked to the adults about the benefits of using board games to encourage learning at home and then the children came and joined their parents to try out the techniques. The feedback was fantastic. All parents were keen to try the methods out and they also liked the free goody bags containing dice, counters, post-it-notes and a pack of playing cards.
The staff have also been able to share the ideas with focus parents at meetings for specific children as well as other parents during consultation evenings. The use of learning and reinforcing skills through games in seen as non-threatening by both adults and children and reinforces their relationship as well as strengthening learning.
A great success for the school!