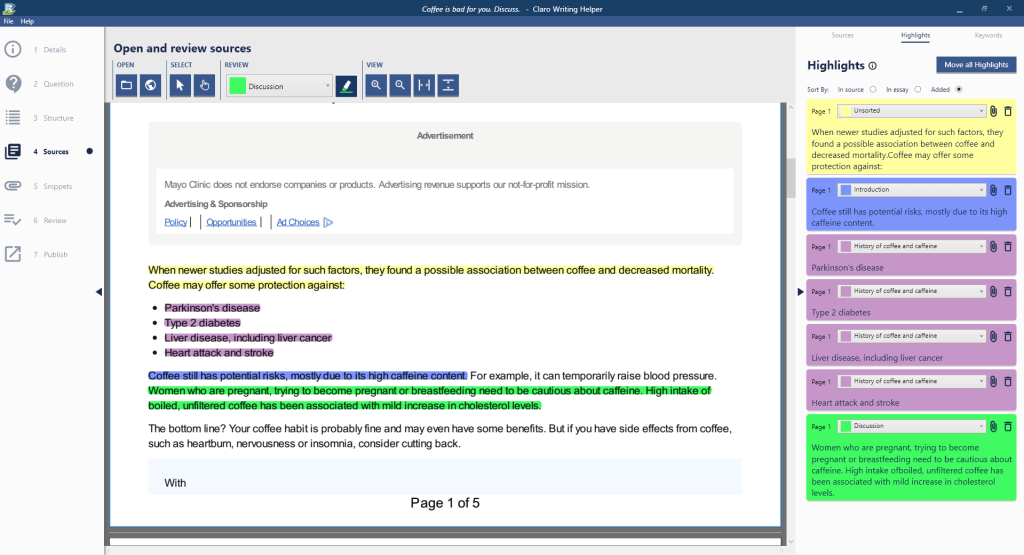 Industry news
Why do we have to write so many essays? Why can't we stand up and discuss our findings with our peers? Why must we write it all down? Why must we do all that reading!? What if we could write essays but avoid most of the reading? What if we could avoid most of the writing? The questions are overwhelming.
Fortunately, the team at Claro are experts on taking the stress out of writing and letting learners showcase their knowledge and ability.
Why Claro ?
We've helped many thousands of neurodiverse students thrive at college and university by levelling the playing field for them.
Claro Software is 17 years old this year and we make awesome software for the neurodiverse, particularly those with reading difficulties like dyslexia.

Our main, and flagship, product is ClaroRead which is a text-to-speech product. Basically, it takes text from all kinds of places and converts it to speech read out in a pleasant voice for you to listen to rather than read. There are mobile apps as well as computer-based ones.
Why teachers like essays
Most of us have been there, and many of us might want to avoid it, but writing essays is one of the key components of most courses of study and it remains a primary way in which we are expected to demonstrate our understanding, skills and knowledge.
Essays let us show our awareness of the topic we're discussing, but deeper than that, they enable us to show how well we understand sources of information, how to find key evidence, how to think critically and judge these sources of evidence, and how to structure our own arguments to persuade and inform others of our views, findings and thoughts on a subject.
An essay is a journey, during which you have opportunities to expand your own knowledge and hone those skills. And like most journeys, it's not all about the destination. However, in all of this, aside from the word 'essay' itself, there isn't much mention of all the reading and writing you have to do in order to complete this journey!
How Claro supports students
At Claro Software we recognise that the act of reading isn't the only way to get text from pages into our heads. Our well-loved and well-established ClaroRead turns text into speech for you, so you can listen to your sources of information rather than read them yourself. Not only is this great for reducing visual load, but if you have a reading impairment like dyslexia, it's a great way to minimise the stress and overwhelm of 'all that reading I have to do'! Furthermore, it's just another way to absorb information. It also can save time.
So, maybe you don't have to do the reading. Now what about the writing?
I have an essay title, a deadline, a word count, and maybe a reading list. I might never have written essays before. I might not know how to do this. I might not know where to start.
Claro Writing Helper is a brand new product from the Claro Software team and it's all about reducing the overwhelm. Now none of this software will write your essay for you, but they will make the process much easier, by removing the cognitive load of reading and writing. Imagine completing an essay without hardly touching a keyboard, and hardly reading a single paragraph yourself? Imagine being able to focus on the topic, gain a deeper understanding, and communicate your ideas in a clear and structured way without worrying about spelling mistakes, fatigue, anxiety and stress. Referencing? Worry about that later. Line spacing? It's not relevant yet. Word count, font sizes, margins, type face… the list of things you needn't worry about is a long one.
Claro Writing Helper presents the essay writing process to you in a clear, structured, de-cluttered way so that you only worry about these things at the very end, when they become important. The first 90% can now be only about your ideas, your understanding, and this topic of study that you are interested in or even passionate about. Don't let neurodiversity get in the way of communicating your knowledge and understanding!
The seven stage approach
When you use Claro Writing Helper, you are presented with seven stages. Each stage lets you focus only on that task, removing the noise and stress from 'all those other things you have to do' (you DO have to do them, sure, but not until later).
Stage 1 is where you settle down, get comfortable, prepare your work area, and enter some basic details about your project.
Stage 2 is all about the essay question. The single most significant reason for poorer marks for essays is probably due to students not answering the – often very specific – question they are being asked. Discuss and explain are different verbs, and would result in different essays. Understanding the question is the foundation upon which the entire essay is built.
Stage 3 is where you can structure your essay. With a clean and simple interface you can create sections, sub-sections and tasks in your essay…
… and Stage 4 is where you can bring in your sources of information. This may be PDFs, Word documents, websites, images, even photos from textbooks in front of you. Stages 3 and 4 work together because the information you find will inform your structure, and your structure will inform what new information you ought to seek. In Stage 4, you can highlight and capture information from your sources by colouring them to match your essay sections.
Stage 5 lets you organise all this information in a linear, structured way without being overwhelmed by the appearance of a document. You still won't have seen a word count, or any red squiggly spelling mistakes, and you won't have been overwhelmed by all those buttons and features that word processors offer.
Stage 6 finally lets you see a WYSIWYG (what you see is what you get) view of your essay.
Stage 7 is where you finally make your word document, and it is only here where you can finish off those pesky typos and address any formatting issues.
So, let's stop thinking about essay writing as a painful exercise in reading and writing, and start seeing it as an opportunity to showcase what we know.
Register for free
No Credit Card required
Register for free
Access to 3 free articles
Free TeachingTimes Report every month