We as teachers, are seeing children absorbing information from many different sources online. As the rise of digital and social media is transforming their experience of news, they have to be able to process material from a wider variety of sources than ever before. For many, the online world is a convenient and instantaneous source of information, but they aren't often able to assess how reliable a story is, especially with the increasing presence of advertising and algorithms which have a big influence on the content they see on their newsfeeds and search results.
It's essential that teachers are able to give children the confidence and the skills they need to make sense of the avalanche of information available to them online and what is happening in the world around them. Introducing practical and fun ways of engaging with the news and encouraging pupils to challenge what they read and see is a great way to help them feel confident in separating fact from opinion, challenging disinformation and have their own values and opinions.
To develop pupils' news literacy, we participated in the NewsWise programme, run in partnership with The Guardian Foundation, National Literacy Trust and PSHE Association,which provides a set of cross-curricular news literacy resources, experiences and support for schools, aimed at teaching 7 to 11-year-olds. Within this module of learning, I took away several ways of working to get the best out of our pupils.
Reflecting on how news is portrayed
Our school was lucky enough to participate in face-to-face training which gave our staff practical tips and ideas on how to make digital and critical literacy a whole-school focus, not just for my Year 5 class. Tips included: ways of getting pupils excited about the news, ways to develop their understanding of the news, promote meaningful discussions about real-life issues and use real news reports as models for writing. By asking pupils to reflect on the way news is portrayed, it teaches them to question, evaluate and think independently about the information in front of them – skills they can apply to all aspects of day to day life as well as their studies.
Having noticed that many of our pupils seemed disengaged with the news, whether that's because they feel it's not accessible to them or they aren't interested, we were keen to try and re-engage them and develop their critical thinking. When we saw the diversity in the different activities and resources NewsWise had to offer, from workshops to journalist visits to the online suite of resources and lesson plans on a diverse range of topics, we thought this would be a fun way to introduce news literacy to our pupils. What's great is the lesson plans help support our English and PSHE teaching as well as they are matched to the English and PSHE curriculum. For example, one of the lessons which explores bias helped our pupils develop their English skills of debating, comprehension and writing balanced arguments, for and against an issue. It allowed them to have open and frank discussions and analyse language used around bias in real life issues, turning to their own experiences of bias and when they may have been biased themselves. A few of the students highlighted their own sporting experiences where they've felt a referees decision was unfair and we looked at how that made them feel, really driving home how important it is for reporters to write news stories fairly.
The training really highlighted why it is so crucial to teach children about the news, beyond simple comprehension of articles and writing news reports. Children need to learn how to navigate what is real and what is not, how to understand fact, opinion and bias and feel that news is for them too, in order to empower them to be able to challenge, form opinions, and engage with the world around them.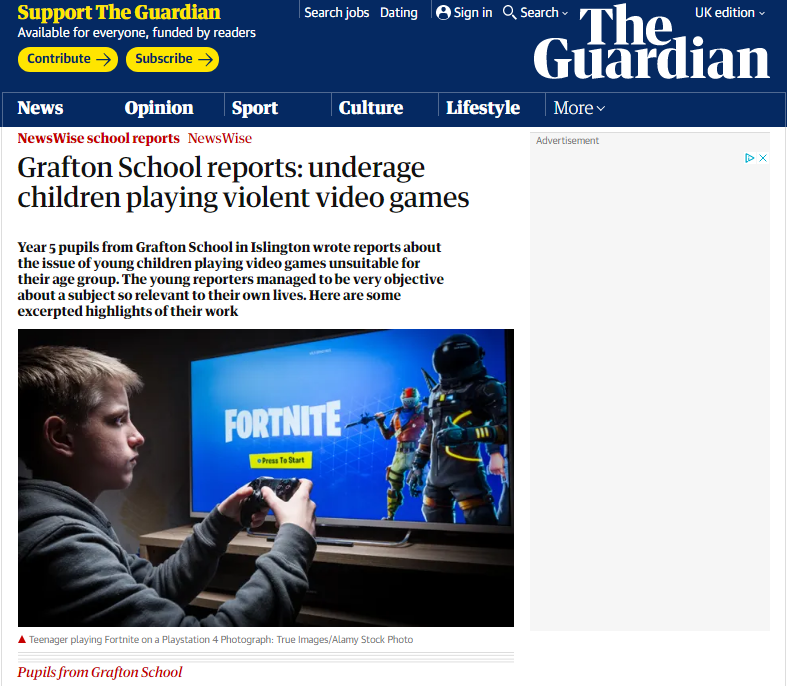 Becoming fake news detectives
Helping children understand how the news is made is crucial to dispelling their fears around the creation and proliferation of fake news. So we turned the classroom into a newsroom! Pupils had their own journalist name badges and Training Journal provided as part of the NewsWise resources which included a tick list of skills such as: proofreading reports and spotting the difference between fact, opinion and speculation (which the children found particularly tricky). We worked to deadlines, just as in a real newsroom, but with the sounds cue of a news intro jingle and lighting changes to show that the deadline for an activity had been reached.
Not only that, to kick start the programme, the NewsWise team delivered a workshop for our pupils, in which they had a go at identifying fake news by using their news navigator tool. This tool teaches them to: Stop and think about whether they've heard of the source, does anything look unusual, are there any spelling mistakes? Question whether the report is balanced, is it trying to make you believe or do something, is it misleading? Check whether the report is factual, are the facts supported by evidence? And finally, Decide whether it's something they would share with others or whether it's biased? This helped them to work through two really tricky examples. One was about a Canadian zoo who received a fine after taking a bear out for ice cream which turned out to be a real story and another about McDonald's scrapping one of its most popular products which was a fake one. They found these examples particularly amusing and challenging which spurred them on to keep practising with other examples.
What's more, we were delighted to host a journalist from The Guardian, Niamh McIntyre, to really bring the newsroom to life. She came in to talk to the children about the importance of reporting and fact checking and worked with them on their own writing. It was really valuable for the children to hear about the writing process from Niamh's point of view. She explained how an article can be written and published within one day, but sometimes they take several weeks to take shape, while they investigate the story, conduct interviews. She also explained how lots of people are involved in the refining process, which means learning to write and work collaboratively is a really important part of her job. This was a fantastic insight from a working reporter and was something the children hadn't thought about before.
During training, we learnt that a Parliamentary Commission into Fake News and the Teaching of Critical Literacy Skills in Schools found that only 2% of children and young people in the UK have the critical literacy skills they need to identify fake news correctly and that children's inability to identify it is driving a culture of fear and uncertainty in the younger generation which can have harmful effects om their wellbeing.1 Therefore, we felt it was our duty to get students actively engaged in the news and learning how to spot fake news so they could learn to approach information critically, and having a visit from a working journalist and engaging them in a newsroom environment really excited them.
Impressing the value of reporting fairly
There are a range of NewsWise lesson plans available online. One example is the topic of: balancing a story. In this lesson, in fact, gave us an opportunity to fulfil one of our class objectives of developing the children's extended writing. We looked at a story of a school who had banned homework, a topic of conversation that is of course of great interest to the children, and we explored the pros and cons of the issue, looking at how we present a balanced argument and what language and tone works best.
However, the topic that really stood out for my class was the lesson on holding power to account which explored the reporting of the Windrush scandal, where lots of people from the Caribbean who have been living in the UK for decades were threatened with deportation. The way the reporting of this issue challenged power and helped to bring about change was of particular interest for my class, as around a third of the class have Caribbean heritage. The lessons included: role plays, video interviews of the victims and different articles on the issue which painted a full picture of the scandal for the children to examine.
This topic had a real impact on the class. They were justifiably shocked and then outraged by the unfairness of the treatment of individuals, such as Paulette Wilson. Hearing her story about how she was detained in an immigration removal centre and threatened with deportation despite having lived in Britain for 50 years, helped them to understand the scandal on a personal level. They particularly enjoyed the role play activities, where one child would portray someone in power (for example, the head of a large corporation, or the Prime Minister) and the other played someone who didn't have a high level of power.
This prompted a larger discussion on experiences the class may have had when they themselves had felt powerless, and how they could change that in the future. Through the timeline of events, from the story breaking to the resignation of the home secretary, the children really got to grips with how the news has the power to change perceptions and affect the world they live in. I loved being able to show the children how important it was for them to make their voices heard and look for the truth at the heart of the matter.
I felt that it was really important to give pupils an opportunity to write for themselves, become the journalists and produce their own fair and balanced news stories and put their skills into action. Taking into account all the skills they'd learnt about fact checking and bias to develop their own authentic voice. The children's article ideas ranged from an air crash that had recently happened in Indonesia, to local environmental concerns and even the lack of pancakes at school on Pancake Day! After a great deal of discussion and research, they voted for their top two choices: air pollution and age restrictions on video games. I was proud to see them choose big issues which mattered to them. They loved taking ownership of their stories and engaging with the writing process, from the interviews and research they conducted as homework, to the drafting, writing, editing and publishing they did in class.
The thrill the children had from seeing their work published on the front page of the NewsWise website was a total delight to witness. Not only had their work been shared and celebrated within school, it was also a real-life news story. What could be more rewarding than that? To celebrate their new skills and their work, we championed the entire class during a special "Golden Achievement" assembly, in front of the school and presented them with NewsWise certificates.
Traditionally, news has been taught in primary schools by introducing an imaginary scenario. However, NewsWise taught us that a great way to help children learn about news, and develop critical literacy skills is to get them to write articles fairly about real events and issues, that they can research, speak to other people about, and write up, which has changed the way we teach news literacy.
Building on the foundations
I cannot overstate the impact the project has had on the children, the whole school community, and on the way we teach news. The children are so much more engaged and questioning of the news, and more confident in spotting fake news. They have been encouraged to go home and teach their parents and siblings about fact checking websites, how to conduct interviews without judgement, and how to assess whether a report is biased or not.
While their writing improved over the course of the unit, it was watching them link what they were doing in class to wider issues outside our school community which I found the most gratifying. For me, so much of what NewsWise highlights is to do with exploring what sort of person you want these children to become: compassionate, interested, resilient, critical, brave, and truthful. This was the most powerful and empowering part of the experience, watching pupils turn into citizens.
Our pupils have rightly relished the chance to be 'experts' and it has been a hugely empowering experience for them. To be able to critically understand news is to prepare young people for a safer and happier life in the digital world. As a teacher, I felt inspired by these experiences and we will continue to run the NewsWise programme at our school.
NewsWise programme, run in partnership with The Guardian Foundation, National Literacy Trust and PSHE Association theguardian.com/newswise