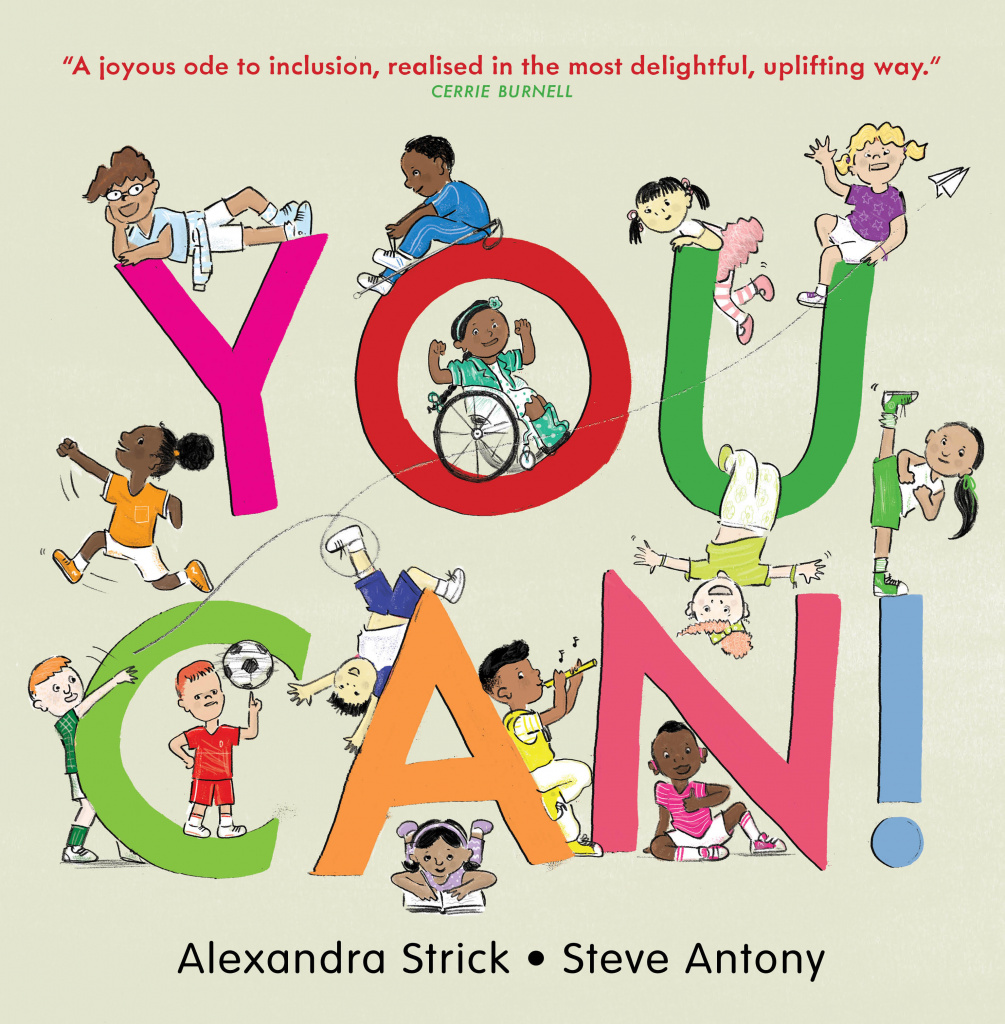 Summer is drawing to a close, children are back at school and as the nights start to draw in that's always a good time to encourage children to curl up with a book and read. This term sees us celebrating a range of themed days including National Poetry Day, Libraries Week, Halloween, World Kindness Day and Universal Children's Day.
My selection of books for this new Book Talking column highlights a few of the books that I've read recently that will give children great reading experiences and that made me as a reader think, because they offered an insight into the world of children and young people who are coping with situations that need understanding, support and kindness from those around them.
Know My Place
Written by Eve Ainsworth
Barrington Stoke £7.99 2021

ISBN 978-1781129807
For ages 13+
Teenager Amy is sent to live with yet another new foster family. She is used to ending up being moved on so doesn't think this time will be any different. She thought her last placement would be different as Mary seemed to genuinely care for her and Mary's daughter Stephanie told her 'We're going to be best friends' but when Stephanie got more and more jealous and resentful and an incident happened, Amy found herself being moved again.
She doesn't want to be in foster care, she wants to be back living with her beloved Nan, but she can't. The Dawson's seem like nice people and their son Kenny offers a hand of friendship, but Amy can't bring herself to trust their patience and kindness. When she misunderstands a telephone conversation she overhears and runs away she has to face the choice of believing that this time she has found her forever family or let the ghosts from the past ruin her chance of happiness.
This is a powerful and moving story of the difficulties and challenges faced by many young people in the foster care system. It is raw, honest but ultimately hopeful and uplifting. The book is well written, a very accessible read and is one of the best books I've read in a long time in terms of explaining the feelings and emotions from the perspective of a teenager in foster care.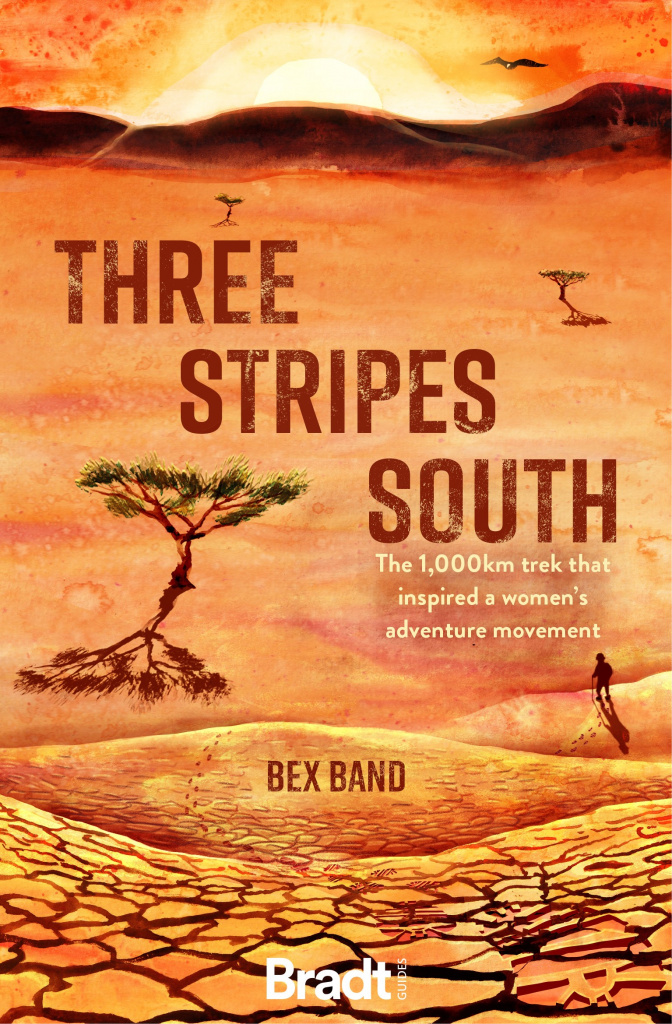 Three Stripes South
Written by Bex Band
Bradt Guides £9.99 2021
ISBN 978-1784778385
For ages 14+
Unsettled with her life, feeling like there was much more out there than the jobs that she had been doing, none of which she enjoyed, and with barely any hiking experience, Bex Band made the decision to walk the length of Israel, along the Israeli National Trail, with her husband Gil. This involved a 1,000-kilometre trek including an unbelievably dangerous crossing through the Negev desert. It's an awesome read that draws the reader in from the first page and takes them on that journey with Bex. The narrative flows beautifully and makes the reader feel that they are having a conversation with Bex while accompanying her along the route.
The experience of making this trek was transformative for Bex. As she pushed herself to the limits and succeeded in each step of the challenge, she saw her confidence re-build and her self-esteem soar. It made her realise that she wanted other women to feel this too. On her return she launched Love Her Wild, a women's adventure community.
She has challenged gender inequality in adventure travel, championed women in the outdoors through her talks, blogging and leading thousands of women on adventures all over the world. Bex herself has been recognised by Business Leader as one of the UK's top thirty inspirational entrepreneurs and has won several business awards. The book is a very accessible and inspirational read, particularly for young women but for anyone who has a dream or wants to change their lives – Bex shows it can be done.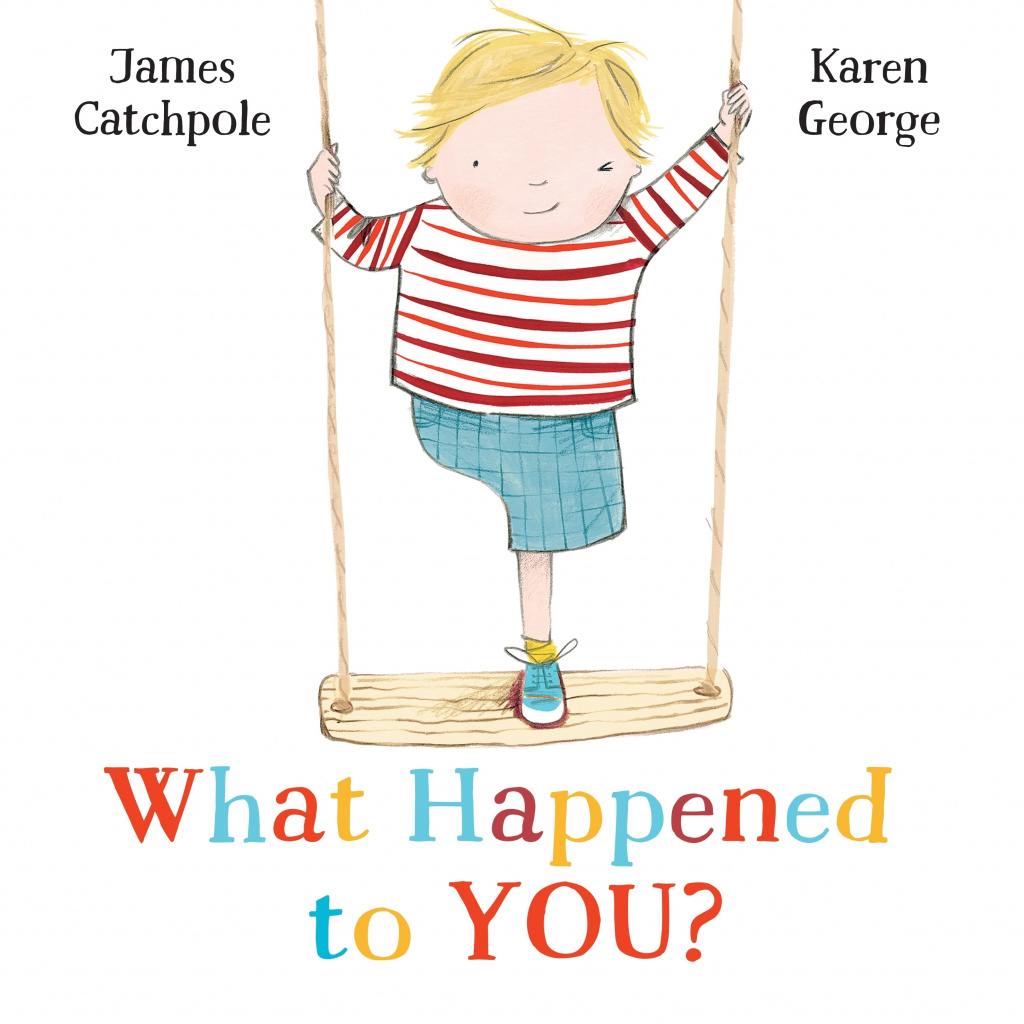 What Happened to You
Written by James Catchpole
Illustrated by Karen George
Faber £12.99 2021
ISBN: 978-0571358304
For ages 3+
How would you feel if every time you went out, or met people, you were asked the same question – what happened to your leg? That's what Joe experiences all the time, as he only has one leg. But Joe doesn't feel like telling his story all the time so he just says 'What do you think', leading to some funny, silly, imaginative suggestions from the children he is playing with. Gradually though, the children realise that there is much more to Joe than the fact he only has one leg and that they don't need to know how it happened.
A really lovely, ground-breaking story, full of humour but also helping the reader understand, what it might be like to always be seen as different. I love the approach it takes, making the reader think, but in a sensitive and gentle way. The illustrations support the text beautifully and really enhance the message of the book. The book also includes a useful letter for adults from the author, on whose personal experiences the book is based. It aims to help them handle situations where their children see a disabled person and suddenly as those direct questions that children can do.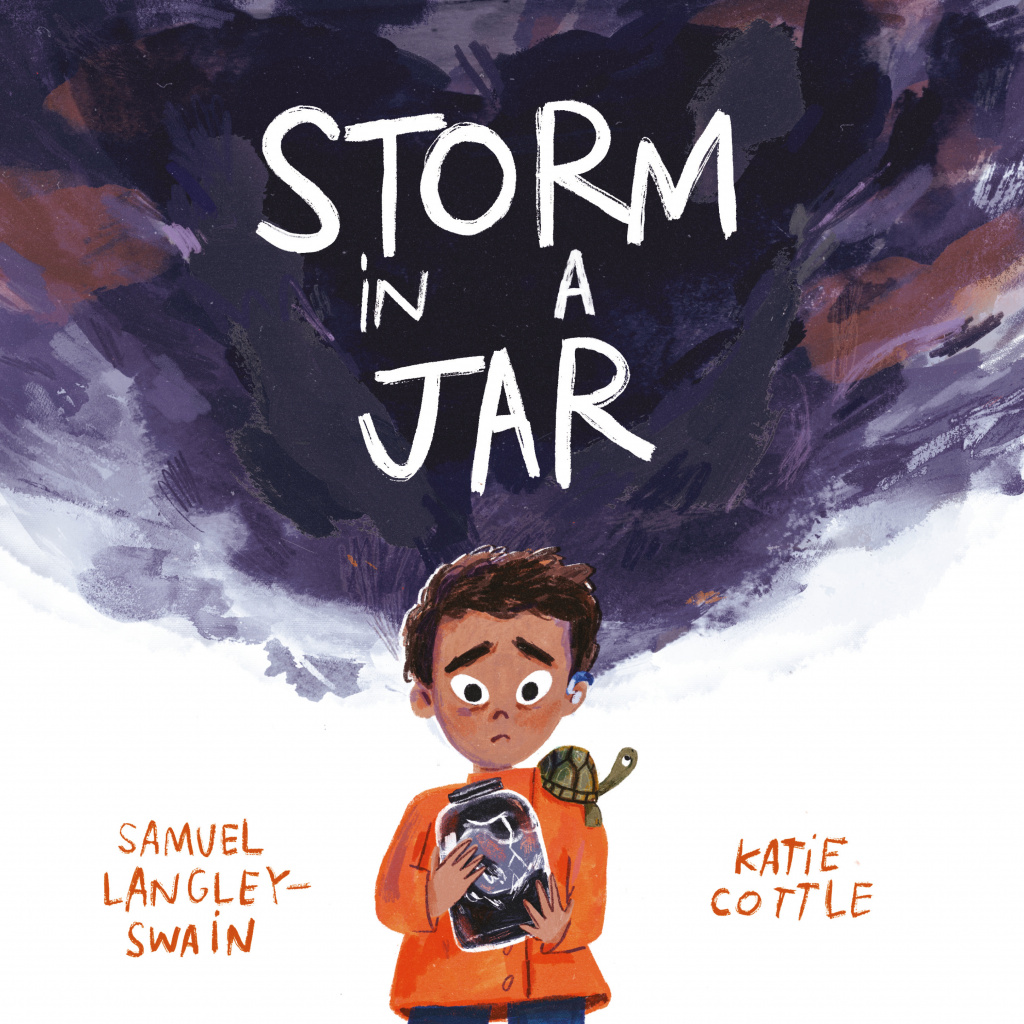 Storm in a Jar
Written by Samuel Langley- Swain
Illustrated by Katie Cottle
Owlet Press £7.99 2021
ISBN: 978-1913339111
For ages 3+
"Arlo visits Nana every Sunday. Her house was always full of flowers and she would always have new sweets for him inside a glass jar" When Arlo is told his beloved Nana has passed away, and sees his family packing things into boxes and the sweet jar empty, he realises she is never coming back.
He rescues the sweet jar from the 'charity shop' box and keeps it with him all the time not wanting to open it in case he lost his Nana's jar. He struggles to deal with his grief and his anger at losing her until he has a bad stormy dream and then Nana shows him she is safe and happy and Arlo finds a way for the glass jar to become a way for his family to remember Nana positively.
A beautifully written story which will be so useful in helping children to deal with death and grief and understand their emotions. It's done in a very sensitive and child friendly way and enables children to manage their emotions in positive and empowering ways. Katie Cottell's illustrations work really well with the text. Great tool to support empathy. The book also contains a Storm in a Jar science experiment and a Stormy-Bottle calming craft project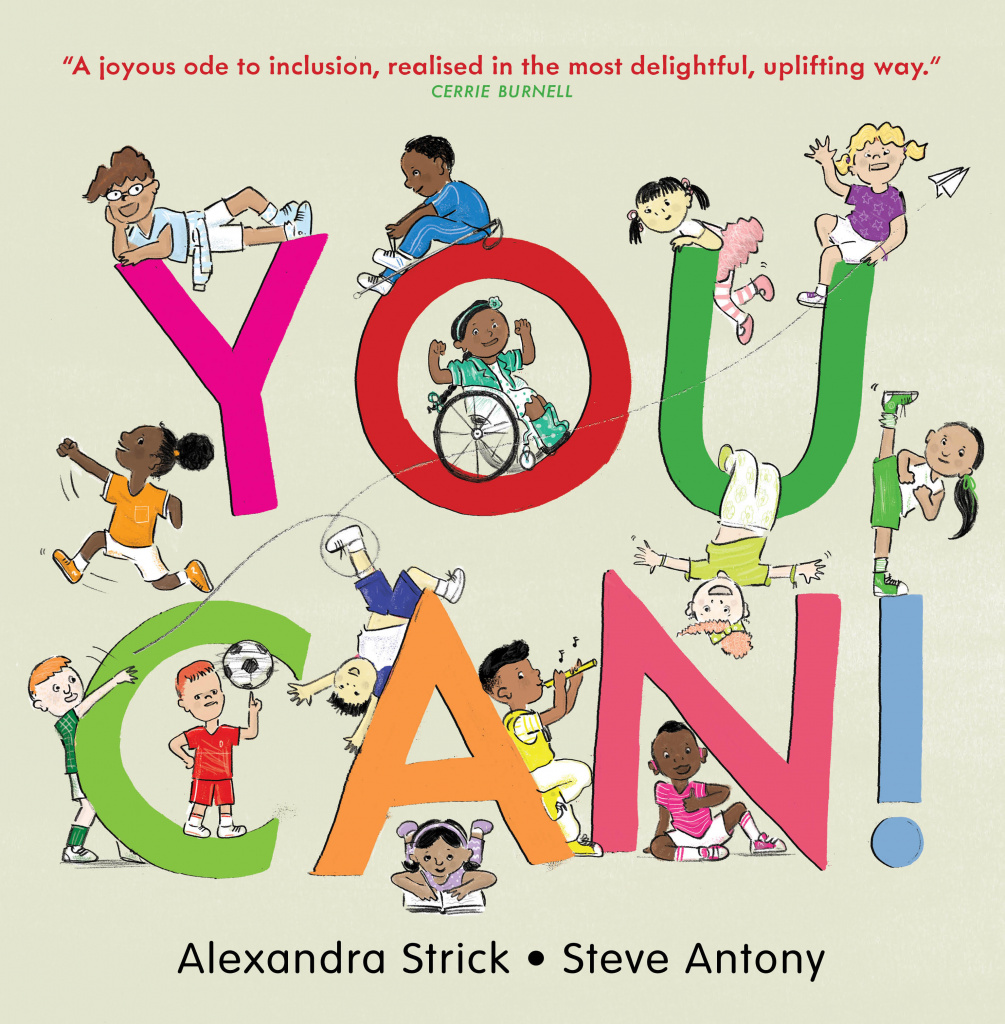 You Can
Written by Alexandra Strick
Illustrated by Steve Antony
Otter-Barry Books £12.99 2021
ISBN: 978- 1913974609
For ages 5+
Every now and then a book comes along that just knocks your socks off and you know that its images and messages will never leave you. For me – this is one of those. For a start, it's a book that has been created by children from a diverse range of backgrounds and experiences working with Alexandra Strick and Steve Antony. Over several years of consultation, the children aged 8 to 18 were asked what they would say to their younger selves to inspire, reassure and enthuse them about the future. This brilliant author/illustrator team have brought their answers to life in a positive, life affirming and incredibly imaginative way.
Through the pictures we watch the children grow from babies, to toddlers, to young children, to teenagers and through to adulthood. The back of the book contains an explanation as to how the book came into being and includes a wonderful set of images of the author and illustrator on a zoom call with some of the young people. I can't find the words to say how much I love this book and I think every classroom, library and home should have a copy of it to inspire every child who reads it or has it read to them
Annie Everall OBE, Director, Authors Aloud UK
@authorsalouduk @read4eva
Register for free
No Credit Card required
Register for free
Access to 3 free articles
Free TeachingTimes Report every month